This dish was always used for Christmas Eve dinner, along with Crab Cioppino and fried Whitebait (smelt). Nana would arrange the ingredients on a large round, shallow, glass bowl, in a beautiful pinwheel pattern, then pour the dressing over it. Susan was kind enough to offer me Nana's bowl so I will use it with great affection.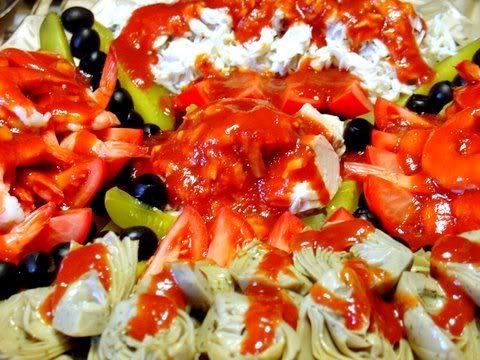 Ingredients:
1 lb crab meat
1 1/2 lb shrimp (cooked, shelled and deveined)
1 large can white Albacore (tuna)
1 can black olives
dill pickle spears
quartered Roma tomatoes (or grape tomatoes)
marinated artichoke hearts
marinated crimini mushrooms (optional)
Sauce Ingredients:
1C Del Monte ketchup
1/4C Star brand red wine vinegar
1/4C fruity extra virgin olive oil
1 can Star brand anchovies
2 cloves peeled, smashed garlic (or you can leave it whole and pierce it with a fork)
salt & pepper
Tabasco sauce
Directions for Antipasto Sauce:
Make the sauce the night before serving and refrigerate. Add together the ketchup, olive oil, vinegar, pierced garlic, and the oil from the can of anchovies. Nana never used the anchovies in this sauce but claimed their oil was her secret ingredient for this seafood antipasto sauce. Cover the anchovies with olive oil, to prevent oxidation, and reserve for another use (Pasta Putanesca comes to mind). Add salt & pepper to taste and then a few drops of Tabasco, again to your taste, but a small bite is all you're looking for in this recipe. These measurements are not exact, so try adjusting the vinegar so it is not a really sharp taste. Refrigerate the sauce overnight so the garlic will have time to infuse, then remove the garlic before serving.
Directions for the Seafood Platter: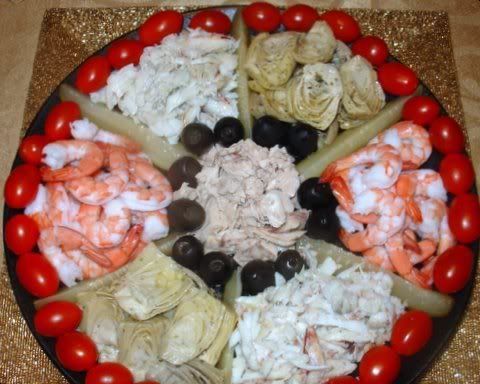 Drain the can of tuna and place it in the center of the platter. Place your olives around the tuna. Arrange dill pickle spears like the spokes of a wheel, then alternate filling in between the spokes with crab meat and shrimp. Place the tomatoes that have been quartered lengthwise around the perimeter of the dish or towards the center, whatever works visually for you. Pour the sauce over the seafood and serve.
Directions for Appetizers:
I have successfully converted this recipe into an appetizer by placing a cherry tomato on a small skewer followed by a pickle chunk, a shrimp and an olive. The skewers can be placed around a dish and the sauce drizzled over them.
Notes: Very often I will add marinated whole crimini (button) mushrooms to this dish if I don't have enough seafood. They work very well with the sauce. This photo shows and individual serving. I prepare it that way when I am serving a smaller group of people.