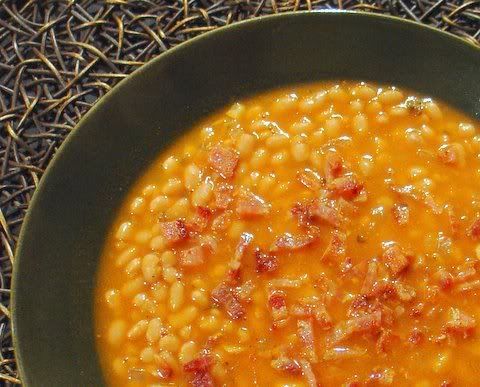 1 pound package of small white beans
salt & a dash of ground red pepper
Place the beans in water overnight following the package instructions. Rinse several times and set aside. Dice the onion and saute in a large stockpot over medium heat, with a small

amount

of the olive oil

and

salt until it becomes

translucent

, then add minced sage leaves and some ground red pepper (I used about 1/4t),
along with thinly sliced garlic cloves, continuing to saute. Add the tomato paste and saute that for a few minutes to cook it, then mix together with the onion and garlic.
Now add the beans and mix. Add water to the pot to cover the beans by at least 2", lower the heat to a simmer and test for any additional salt that you may need. Cover the pot and stir every 15 minutes or so to keep the contents from sticking to the pot. When the beans are tender, the soup is ready. You may need to add water and adjust salt while the soup is still cooking since the beans

will

absorb some of the water. After you have plated it, either place strips of cooked bacon on top, or chop the bacon and sprinkle it onto the soup.