Went looking for Bergamont sour oranges and found not only them, but Seville sour oranges too. They taste like sour tangerines or mandarin oranges. Here's my take on a traditional orange marmalade. Sevilles are so full of pips that using their pulp was almost impossible and much too much work, so I compromised. I used their juice, skins, and added large navel oranges for pulp and juice.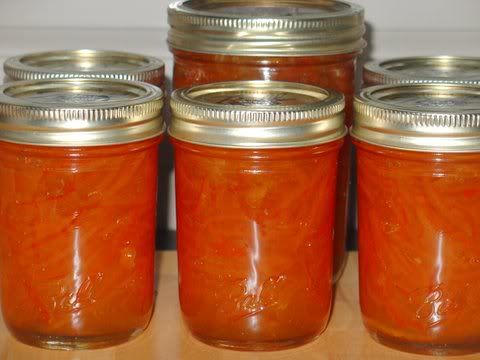 Ingredients: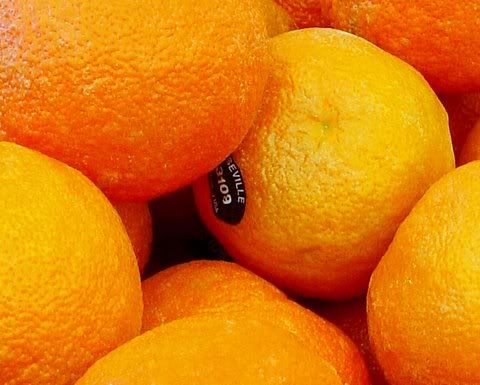 10 large Seville oranges
2 large navel oranges
5 1/2 cups of sugar
Directions: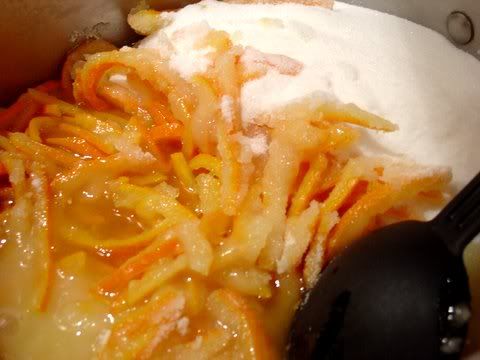 Peel the Seville oranges and boil the skins for 45-60 minutes, then scrape off the pith and slice the peels very thin. While the peels are boiling, strain as much of the orange juice as you can from the oranges and use the juice and pulp from the navel oranges as well, removing as much of the membranes and pith as you can. Combine the slivered peels with the juice and pulp and measure, then place in a nonreactive stockpot while you measure out an equal amount of sugar. Add the sugar to the oranges over a high heat and stir until you get the marmalade to a rolling boil stage, then place in sterilized jars to can.
This recipe makes 3 1/2 pints of marmalade