I really like mixed vegetable salads that include fruit. Even though it would be ideal to get further away from mixing them with Nonna's "holy trinity" of salad ingredients,
any fruit seems to work with them, so I used bell pepper, tomato and red onion once again with fruit. This time with Cara oranges, the remarkable pinkish sport of navel oranges. Less acidic than many other citrus and not as sweet as navel oranges, the Cara has a very mild taste and that makes this a refreshing salad.

Ingredients:
1 Cara orange
1 green Bell pepper
1/2 small red onion
2 medium sized, ripe tomatoes
salt & pepper
extra virgin olive oil
red wine vinegar.
Directions: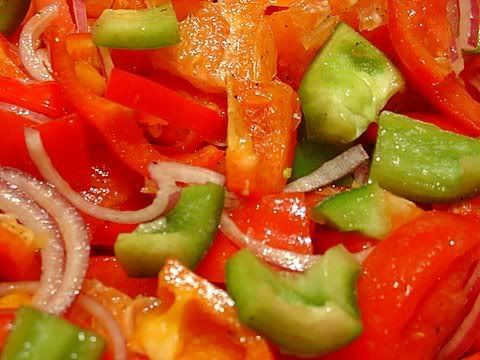 No need to get fancy and cut off the orange membranes with this salad, just peel, divide into segments and slice into thin sections. Chop the pepper, slice the tomatoes and thinly slice the red onion and mix all together with the orange in a salad bowl. Drizzle on the olive oil, add salt & freshly ground black pepper and mix again. Sprinkle on some red wine vinegar, mix, taste and adjust to taste. I usually use twice as much oil as vinegar. For a change of pace you may wish to drizzle on a little honey.