What do you do with all your holiday turkey leftovers with all the trimmings? Microwaved leftovers and turkey stock, along with turkey sandwiches were my usual way of dealing with them, but this year I just happened to notice a package of won ton wrappers in the refrigerator and my world changed. I made soup well beyond my normal turkey stock.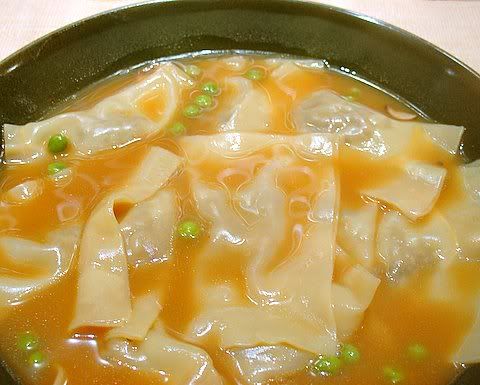 1/2C leftover turkey stuffing
1oz freshly grated

Parmigiano
1/2C leftover peas and mushrooms (optional)
Lay out 8 won ton skins at a time and place about a teaspoonful of stuffing in the middle of each. Brush water on the edges and fold in half or into triangles and secure the stuffing in place by placing pressure on the edges to seal them. Place them on a cookie sheet until your stock has come to a rolling boil. Lower the heat to medium high and slide the

tortelloni

into the pot. Stir carefully.
When the

tortelloni

are cooked they will rise to the top of the stock, but testing one to make sure it is cooked through is always a good idea. When I first tested this recipe I simply placed the pasta and stock in a bowl and added grated cheese. On the second go round I added a few spoonfuls of cold peas and mushrooms to the soup to liven up the color a bit for more eye appeal and didn't bother with the cheese. The peas get heated by the soup and keep from getting mushy by not adding them to the boiling stock.