This is a knock off, pure and simple. We have no family history with this sauce, but since I make meatballs, and braciole I knew I had to make this Napolitani classic brought to America by these Southern Italian immigrants who filled their neighborhoods with this traditional pasta sauce on Sundays when the families would gather several generations around the table for dinner.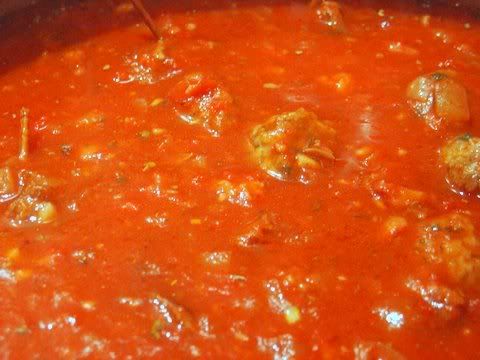 Ingredients:
18 meatballs
18 small braciole
3 Italian sausages (sweet or hot depending on preference)
1 large yellow onion
2T extra virgin olive oil
5 large sage leaves (or 8 medium)
3 large cloves garlic
1 large can 6 and 1 crushed tomatoes
water
When I make braciole or meatballs I usually freeze half the batch to make this an easy effort otherwise this recipe could take the better part of one day. It starts out like every other pasta sauce made with a tomato base, by sauteing diced onion, adding in minced garlic and sage and sauteing them too until they release their fragrance. Add the sausage either cut into quarters or ground and saute until slightly browned. This might be easier to do in a separate pan.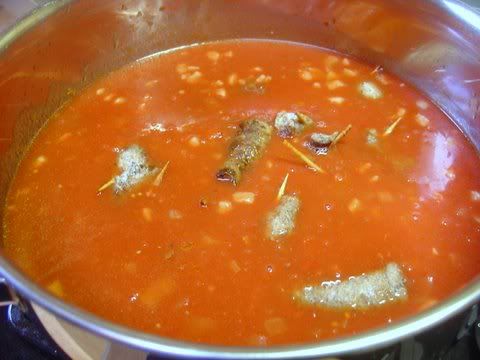 After sauteing the onion and herbs, add the whole can of sauce and then fill the empty can with water and add that into the mix. Stir and add the braciole and bring to a slight boil, then reduce to a simmer and cook for an hour to 2 hours, until the sauce starts to thicken. In the interim, let the meatballs thaw and as soon as the sauce thickens add the meatballs and cook for another 20 minutes until they are heated through. While you wait, bring your pasta water to a boil and cook the pasta, drain and mix it in a large bown with some of the sauce and grated Romano cheese, then a few pieces of the braciole and meatballs can be added on top of the plated pasta.