During a disastrous lamb dinner where I bought not only a rack of lamb that we served a little too rare, but a small lamb roast, in case I underestimated portions on the rack, no one wanted to attempt eating the roast. So, one cooked roast of lamb, what could I use it for besides sandwiches? Then I remembered a soup Uncle Anthony always made, that I really loved. I had no recipe, so had to improvise from memory. I'm sure he used a raw shank, but I needed to use up the leftover roast, so we start from there.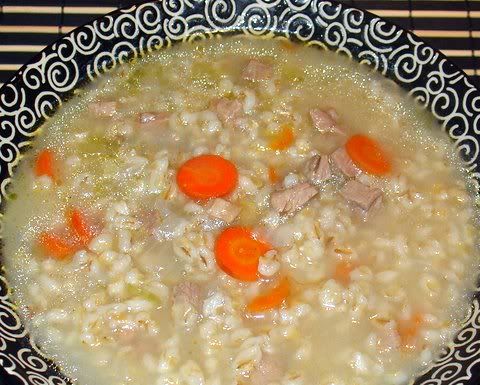 Ingredients:
1 1/2C diced cooked lamb roast
2T extra virgin olive oil
3 small carrots
2 celery ribs
1 medium yellow onion
1 package of pearl barley
1-2 porcini or beef bouillon cubes
salt
water to cover by 2"
Directions:
After the roast has been refrigerated overnight, cut it into 1/2" slices, then dice those. Dice the onion and fine dice the celery, then thinly slice the carrots, cutting the bigger slices into quarters. Place a 6-8 quart stock pot over a medium heat and add the olive oil.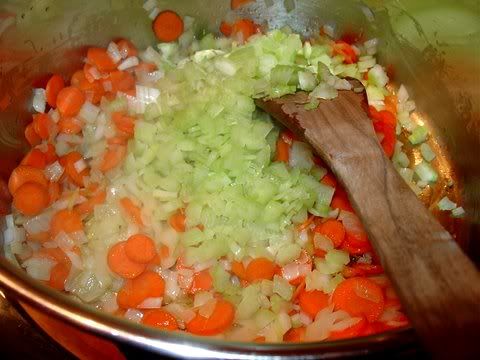 Add the vegetables to the pot and saute until they sweat. Adding a little salt at this time will help in the process.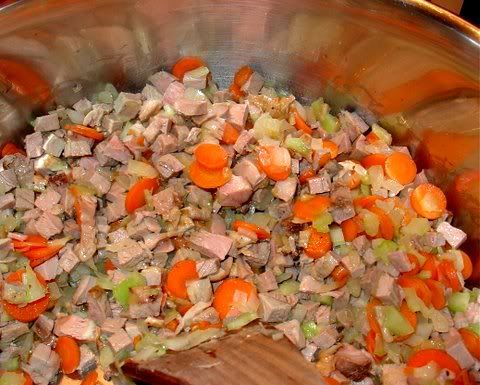 After about 3 minutes, add the diced lamb and saute for another minute or so. It's not on the recipe, but adding a bay leaf could be good.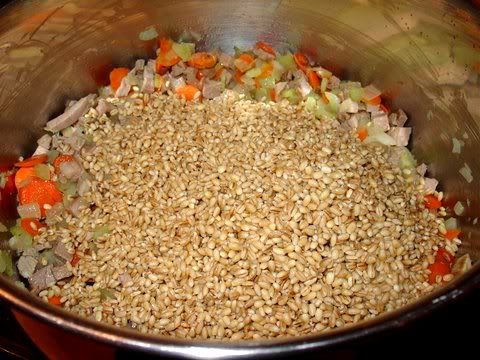 Wash and drain the package of barley, then add it to the pot and stir it into the vegetables for another minute or two.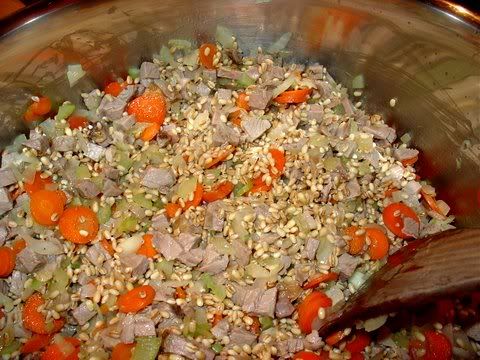 Add water to cover by 2 inches and one bouillon cube. Lower the heat to a simmer and cover the pot for 15 minutes, stirring occasionally.
This photo shows the soup cooked for about half and hour. If you need more water to fully cook the barley, add it. Use 2nd bouillon if needed.
I almost never use black pepper in a soup, even if I write it as an ingredient in a recipe, but I think it would be a good addition to this soup. It originally turned out a bit flat, so I adjusted the recipe with the bouillon cubes, making sure not to add both at once, since I had already added salt. At the end of the process, I uncover the pot if the soup needs to thicken and simmer some more.