This is a very simple, yet rich, meat sauce that always brings to mind fond memories of growing up around my grandparent's dinner table. From week to week, we never knew who would show up to Sunday dinner, as friends and extended family knew they were always welcomed. It is no wonder that I always make more than enough food for company.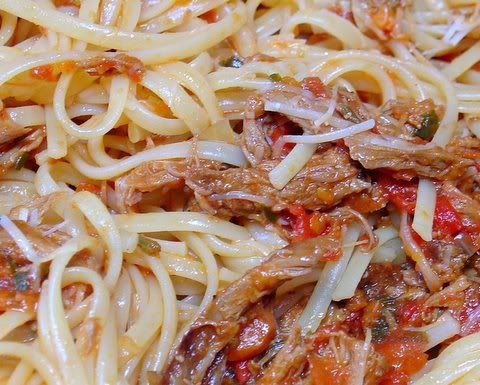 Ingredients:
1/4 C extra virgin olive oil
1 large chuck roast
1 large, finely diced, yellow onion
6 cloves of garlic, either smashed or minced
2 sprigs finely minced rosemary
1/4 C finely chopped, flat leafed parsley
2 28oz cans of 6 in 1 tomato sauce
1/2 can water to thin the sauce
Salt for sweating the onions
Alternate Ingredients:
More garlic
8 large leaves of sage in place of the rosemary
1 28oz can of whole, peeled tomatoes, crushed
Red pepper flakes to taste
As a rule, recipes evolve and so has this one. I prefer sage and a more chunky less smooth sauce than my grandmother, but the taste is remarkably the same. Over the years I have discovered that I prefer to add more water to cover the roast completely, since I intend to "cook it down" anyway. The one constraint I abide by is to never eat the sauce the day it is made. It needs time for the flavors to mellow.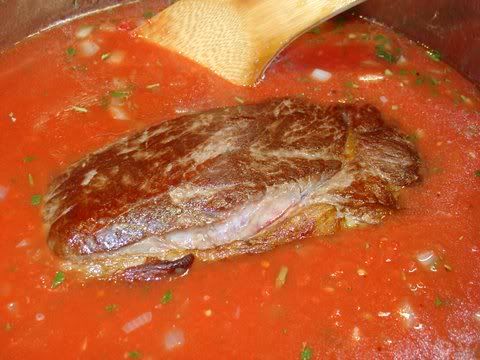 Cooking Directions:
In a large nonreactive pot, placed over a medium hot burner, add the olive oil and sear the roast on all sides. The deeper the searing, the darker the sauce. Remove.
Saute the onions in the same pot until

translucent

, scraping the pan gravy left by the meat. Adding salt now will help sweat the onions.
Add the garlic and herbs, saute until they release their fragrance. If you choose to use red pepper flakes, this is the time to add them.
Pour in the two cans of crushed 6 in 1 tomatoes. If you cannot find this brand, use canned San Marzano tomato sauce, or my grandmother's standby, Del Monte tomato sauce. Once she discovered 6 in 1, there was no turning back! Alternately you could use large cans of tomato paste, but you would have to thin them into a sauce

consistency

with almost equal parts of water.
Stir to incorporate the onions and garlic with the tomato sauce, add some water to thin it out a bit, then add the can of whole peeled tomatoes with their juice. In the rustic spirit of Southern Italian sauces, crush them with your hands!
Add back the chuck roast and cover with the sauce. Turn down the heat to a simmer and stir every 15-20 minutes or the sauce under the roast may stick to the pot or burn. Cover partially with the lid and simmer until the meat falls apart. This could take as long as 3 hours.
Take off the heat, refrigerate over night and serve the next day. This sauce

freezes

very well too.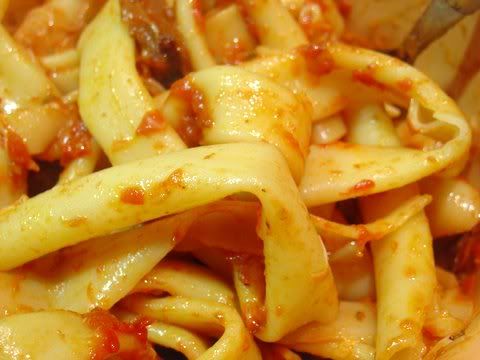 Nana liked to serve the meat as a separate course, but I like to shred it and serve it in the pasta. Traditionally this sauce is served with

Pecorino

Romano cheese and works well on

ziti

,

perciatelli

,

bucatini

,

mezze

ziti

, and our family favorite,

mostacioli

(

penne

).