This sauce came about after making a batch of Bergamont and blood orange marmalade. I never even liked marmalade (or Bergamont for that matter) but was encouraged to try making it when I saw the Bergamont oranges for the first (and only) time, shortly after a discussion with friends who had recently tried an easy recipe. This recipe would be fine if made with a classic orange marmalade.
Ingredients:
1/2 cup orange marmalade
1 cup ruby port (Ficklin is my favorite)
1/2 cup chicken stock
2T dijon mustard with seeds
cracked black pepper to taste
1 1/2T of compound butter with garlic, thyme and sweet red pepper
(this can be replaced by the same amount of butter, 1/4t thyme,
and 1/2t minced garlic)
Directions: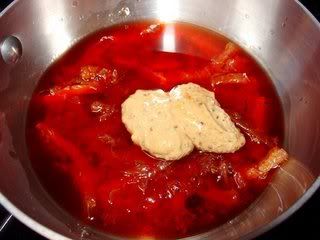 Place the port, marmalade, and mustard into a nonreactive saucier over medium high heat and reduce in half, then add the chicken stock and reduce again. Mix to a smooth consistancy with an emersion blender.
Add cracked black pepper and bring to a rolling boil to reduce until it thickens.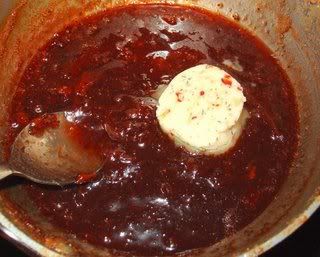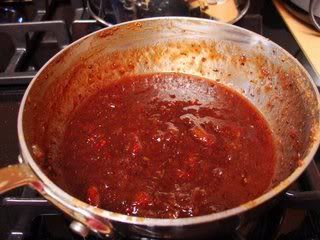 Take off heat and add the compound butter. Layer over a piece of chicken that has been grilled or roasted.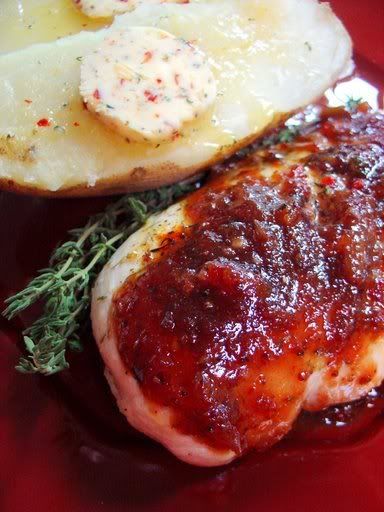 Serve with a baked potato and compound butter and any green vegetable or mixed vegetables of your own choice.