This is a marinade I originally developed for prime rib and have since used successfully for lamb, as pictured, and may even try on pork.
Ingredients: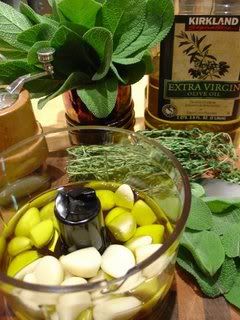 1 whole garlic, divided into cloves and peeled
olive oil
(enough to form a paste with other ingredients
20 minced sage leaves
4 minced sprigs of rosemary
coarsely

ground black pepper
Directions:
Start by placing some extra virgin olive oil and the garlic cloves into a blender and chopping the garlic, then add the herbs and blend until you have a nice paste consistency.
Add a bit more oil if the paste needs thinning and blend again. Add cracked black pepper and blend one last time.
Place plastic food wrap over a plate and cover the center with a thin coat of the marinade, then place your roast on top of it
.
Add more of the paste to the top of the roast and cover the entire roast.
Bring wrap tightly across the meat and refrigerate for a minimum of 4 hours. I usually marinate roasts overnight. You may add salt if you wish. My habit is to salt meat after it cooks.