This was an experiment to improve on my "Indoor Outdoor Chicken", using a new pantry item; Trader Joe's Mango Chili Vinegar as the acid.
Ingredients: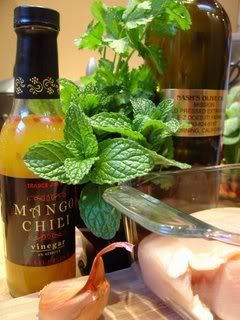 For the Chicken and Marinade:
4

skinless

boned chicken breasts
1 minced shallot
3T extra virgin olive oil
3T mango chili vinegar
15 cilantro sprigs
4 sprigs mint
For the Sauce:
1/2 cup apricot jam
1/2 cup mango chili vinegar
1cup chicken stock
2T minced shallot
salt & black pepper to taste
2T compound butter with garlic, thyme and dried sweet pepper if available
Directions:
To make the marinade, mix the olive oil, vinegar, add chopped cilantro and mint, then mince the shallot and add it and the chicken breasts to the mix in a shallow bowl.
Refrigerate covered for a minimum of 30 minutes . Salt and pepper after cooking.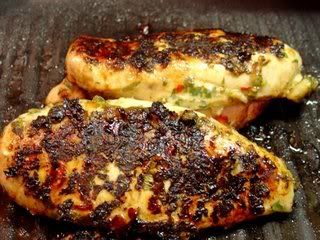 Cook the chicken breasts on a stove top grill pan over medium heat until the juices come to the surface, then turn once, and wait for the juices to rise again. This produces a very tender and juicy chicken breast. Rest for 10 minutes off the heat.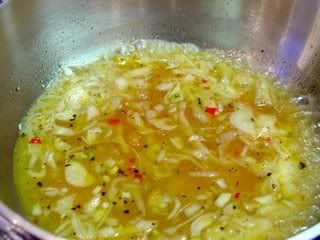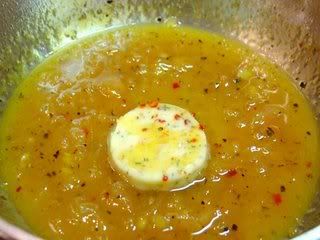 For the sauce, heat the apricot jam, minced shallot and vinegar, and reduce by half, then add half the chicken stock along with some freshly ground black pepper and reduce by half again. Taste to see if you need more of the stock (if the

sauce

is too acidic). When the sauce is looking like the consistency of syrup, take off the heat and add the

compound

butter (or plain butter with 1/2t minced garlic).
Serve with a simple salad and a dressing made of a fruity olive oil and the mango vinegar. The salad in the photo is made of cucumbers, mandarin oranges and red onion with chopped cilantro.