Someone, find a good name for this recipe, please! The trouble with inventing a recipe is that you have to name it. This idea was completely inspired by smoked paprika, a spice I had discovered several years ago. It is cooked on a

stove top

grill pan, but tastes like an outdoor BBQ.
Ingredients:
4 skinless boneless chicken breasts
2T extra virgin olive oil
3 finely diced garlic cloves
4 large,finely diced sage leaves
1/4t smoked paprika
juice of one half lemon
Directions for Marinade: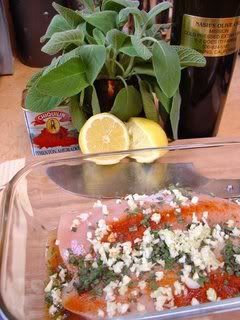 Place the chicken breasts in a glass loaf pan or shallow bowl and pour the olive oil and lemon juice over it. Add the remaining ingredients and turn the chicken to coat evenly, then refrigerate for a minimum of 30 minutes, up to overnight.
To Grill the Chicken:
Heat a ridged grill pan to medium high, and place the breasts in the center of it, then turn down heat to medium. Wait for the juices to raise to the top of the chicken, than turn once only, and wait again for the juices to raise to the top of the breast. Take the pan off the heat and rest for 5-10 minutes where it will finish cooking.