After the holidays last year I found myself with 5 pounds of unsalted butter, since I had not completed my baking projects. What do you do with 5 pounds of butter? The short answer is to make compound butter. I use it on poultry and meats, vegetables, on toasted bread and most often to finish sauces.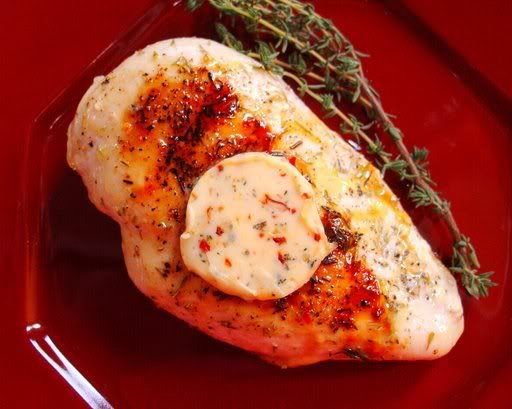 Ingredients:
1/2 pound sweet butter
2 cloves of fresh garlic
1T Aleppo pepper
1T fresh thyme
Notes:
Aleppo pepper is grown in Syria and Turkey and is most often described as a fruity pepper with heat. As I read descriptions on several spice sites I noticed that it ranges from very hot to mild. The pepper I use is mild and red. It also comes in a green, hotter pepper.
Directions:



Cream the softened butter, mince the pepper, then add to the butter and stir. The pepper that I used for this recipe was fruity and mild. If your pepper is hot, reduce to 1teaspoon.


Mince the garlic cloves and add to the butter, then stir to incorporate evenly.



Mince the thyme and stir into the butter. The mixture is soft at this point, so

refrigerate

to stiffen, but not harden.

When the butter is more firm yet

malleable

, roll into a log and place on a sheet of plastic wrap.
Roll to cover completely in the plastic and to achieve a more uniform log, then twist the ends, roll them under the log, wrap in tin foil and freeze.