What does one do with four dozen leftover phyllo cups? Simple answer: improvise. After our holiday party last year I found myself practically tripping over phyllo cups. Luckily I discovered that they last for weeks if placed on a tray and covered with a cloth. It was shocking how crispy they stayed. This recipe works well as a dessert, although I ate most of them as a decadent breakfast.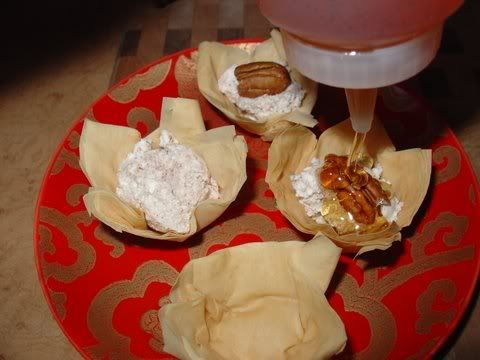 Ingredients:
Phyllo cups
1C ricotta cheese
1t ground cinnamon
1C honey (something light like orange blossom or clover)
1 1/2t vanilla paste
Special Equipment:
a small squeeze bottle for the honey
Directions:
If you want to make your own phyllo cups you'll need frozen phyllo sheets, melted butter or extra virgin olive oil, a pastry brush, and a mini muffin pan. Please follow instructions from the Gorgonzola Phyllo Cup recipe.
Mix the ricotta and cinnamon, then set aside. Mix the honey and vanilla paste, then pour into the squeeze bottle and set aside. Fill each phyllo cup with about 1T of ricotta, place a pecan half on top of the filling and drizzle with the vanilla honey (there will be leftover honey).