Inspiration rains in buckets when you have 200 won ton cups to fill.
Ingredients:
spinach won ton wrappers made into cups
goat cheese
mascarpone
1 medium zucchini
1/2 small onion
extra virgin olive oil
mint leaves
salt & pepper
Directions: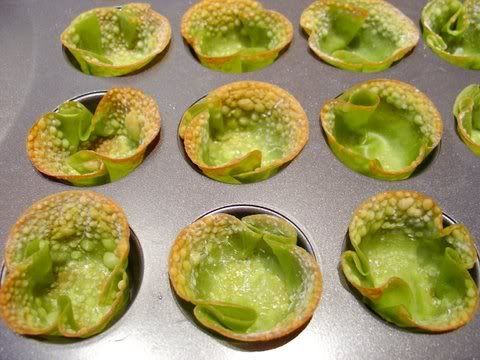 See instructions for won ton cups in the recipe above. Mince the onion and saute in olive oil, then add the zucchini that has been cut into matchsticks and saute until soft (you may add salt & pepper if you like). Set aside. Cream the goat cheese and mascarpone, 3 parts goat cheese to 1 part mascarpone. Fill the cups half way with the zucchini, then add the cheese mixture. You may now heat at 350 degrees for 5 minutes or until the goat cheese starts to melt. I prefer them just warmed. Top with a fresh mint leaf before serving.