If you're lucky enough be living in an area where Nasturtiums grow wild, this salad is a good enough reason to forage for them. I like to grow them, so I can pick specific colors for a lively salad appearance. All the petals and leaves taste the same and impart a nice peppery flavor to your salad, although the leaves have a stronger taste than the flower petals.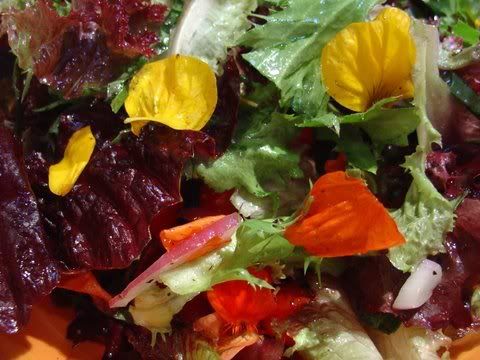 Ingredients:
mixed lettuces
thinly sliced red onion
Nasturtium flower petals
2 medium Osaka purple mustard leaves
extra virgin olive oil
red wine vinegar
salt & pepper
Directions: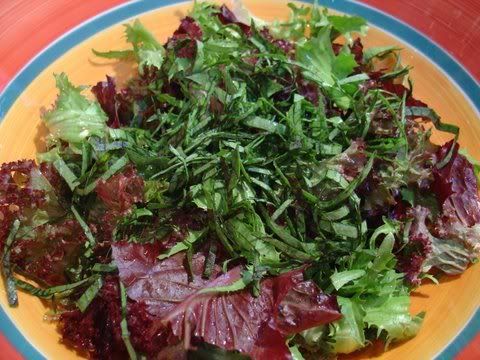 Wash and dry the mixed lettuces,

chiffonade

the mustard leaves and add them and the sliced onion to the bowl, along with a drizzling of extra virgin

olive

oil. Shake on some salt & pepper and mix all ingredients together. Sprinkle on some vinegar, mix again, and finally add the delicate petals which have been stripped from the Nasturtium flower.
Notes:
Purple Osaka mustard gives a nice

horseradish

bite and flavor to this salad. If you can't grow your own, then try using the Nasturtium leaves as a substitute. Pansies and Violas make colorful substitutes for the Nasturtiums.