This recipe was a necessity for me to learn, since my husband ate Carbonara every day during our honeymoon in Italy. I copied down the recipe used by La Carbonara in Rome, from a travel show I was watching one day. I have altered it to my own taste. The traditional Carbonara is made with spaghetti, but I have never liked the texture of spaghetti and am not enough of a slave to tradition to make this recipe with it. I have also added more cheese and eggs for a creamier taste without resorting to using cream.
Fettucine is pictured here:
Ingredients: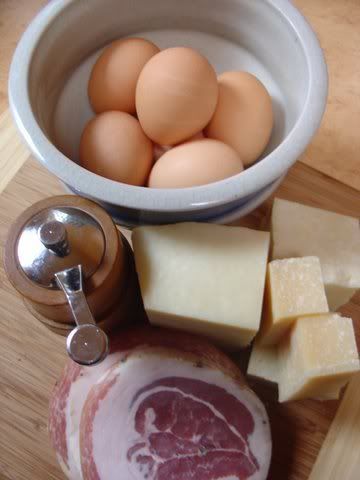 1 lb linguine or fettucine
5 eggs, 2 whole and 3 extra yolks
1/3 lb pancetta cut into a small dice
Freshly ground black pepper
1 1/2C
half Romano & half Parmigiano
Directions: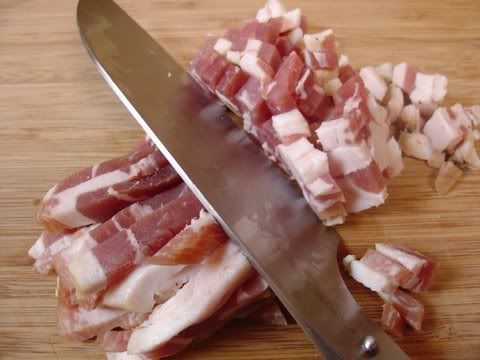 While you are boiling the water for the linguine, chop and saute the pancetta until it's lightly browned on the edges (if pancetta is unavailable, you can substitute a lean non smoked bacon), then drain off the fat and set aside. The point to sauteing the pancetta is to render the fat, not to make it crisp. Grate the cheese and set that aside. Now put the whole eggs and additional yolks (sans shells of course) into a small bowl and lightly beat, grate black pepper (medium coarse grind) into the egg and beat again.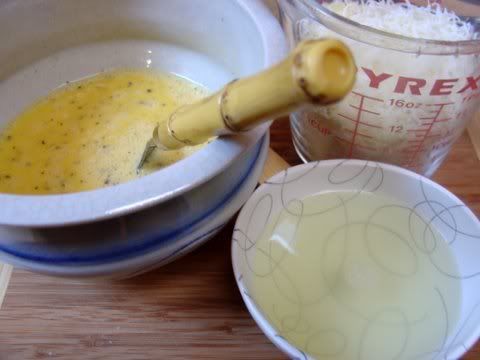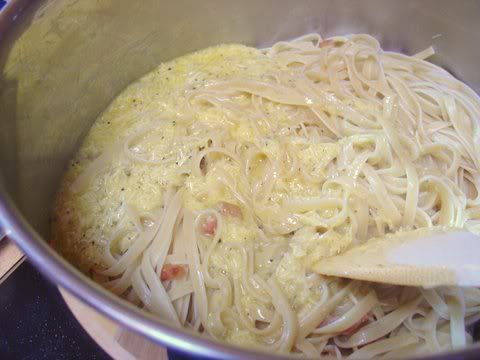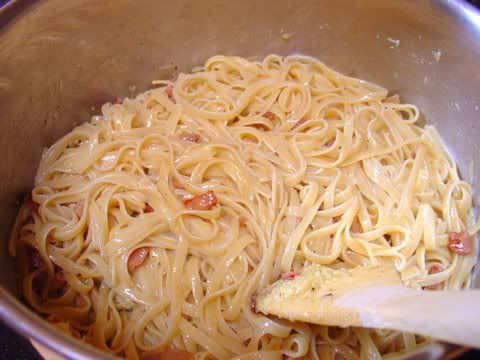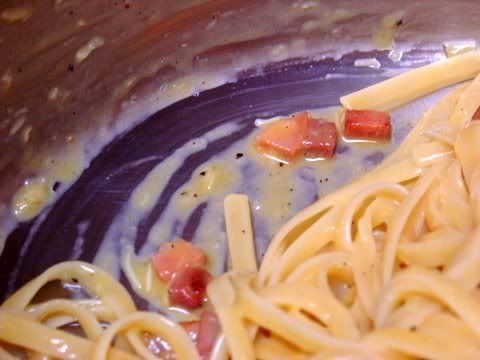 As soon as the linguine is al dente, drain the pasta and take a cup of the pasta water and set aside. Turn off the heat, and place the pancetta into the bottom of the empty pot, then add back the pasta, stirring them together. Now add the cheese into the bowl with the egg and mix and combine them by stirring. The pot will be hot from the boiling water and that residual heat is what cooks this egg sauce. Pour the egg mixture onto the pasta and stir very quickly to incorporate. Use a little of the reserved pasta water to help the cheese to melt and the egg to become creamy. Use 1T at a time, only if the pasta looks dry and is difficult to stir. Adding too much will ruin the recipe; adding too little can easily be adjusted. This particular making of the recipe did not require any of the pasta water at all. The last photo clearly shows that the cheese had melted and the sauce was already creamy (click to enlarge).
If you have failed to turn off the heat, you will have scrambled egg pasta, not Carbonara.