Since this was my second try with white peaches, I was going for a firmer jam. Even with the pectin added, the result is not firm, so it looks like I'm destined to use much of this on desserts instead of bread or English muffins...I can do that!
Ingredients:
7C firm white peaches
4C sugar
1 very large lemon
3T peach schnapps
1/2 pkg of Sure Jell Pectin
Directions: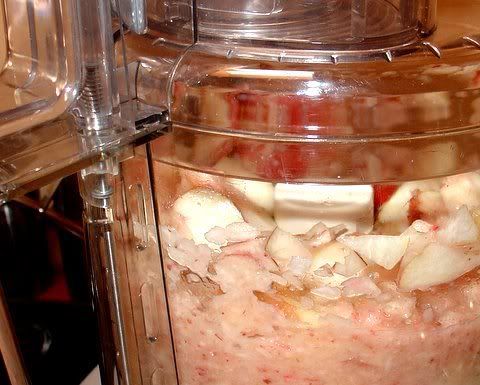 Pit but don't peel the peaches and chop 4 cups worth into a medium dice. Pulse remaining fruit in a food processor until it is a very fine chop, almost pureed. Place the fruit, sugar, and juice into a non reactive sauce pan over medium heat and bring to a boil. Simmer for 30-45 minutes or until the fruit had become soft. Add the schnapps and cook down for another 15 minutes. Add the pectin and stir in until it boils again for 1 minute. Turn off heat and can in your usual method, then put jars in a steam bath for 5-10 minutes if you are canning in half pint and pint jars.
This recipe makes 3 1/2 pints.