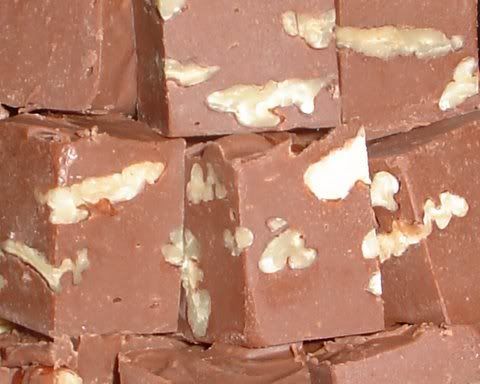 Ingredients:
18 oz. milk chocolate
1 can sweetened, condensed milk
1/2 cube sweet butter
2T bitter almond extract
1 1/2C whole pecans
Special Equipment:
Double boiler or microwave
Directions:
Place the chopped chocolate in the double boiler that is over a medium low heat. Add the condensed milk and butter and stir with a wooden or bamboo spoon until it has melted completely. If you're using a microwave, melt on medium in short 30 second bursts repeatedly until the mixture is completely incorporated. When the fudge thickens, take it off the heat and add the almond extract. Beat with the spoon until it looks more opaque and has less shine. Then add the pecans and place in an 8"x8" or 9"x9" buttered pan or one that is covered in parchment paper. Cool in the refrigerator and cut into 1" squares.