Having lost Nana's recipe, I was forced to reinvent the wheel or at least, clam chowder
.
I was therefore able to also use an ingredient from my favorite clam chowder of all time, the one made at 7 Seas Restaurant in Sausalito. The heart of the restaurant is long gone although the building survives to serve pizza and ice cream. Bell pepper made the difference in their version of this classic.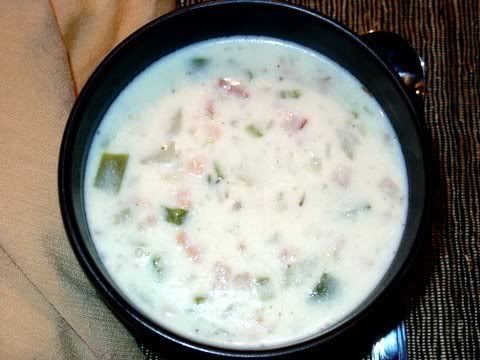 Ingredients:
2 cans snow's chopped clams
3 strips bacon
3 large potatoes
3 celery stalks
1 lg green Bell pepper
1 lg yellow onion
2t dried thyme
salt and cracked pepper to taste
1 1/2 qts whole milk
1/2 cube butter
1/4C unbleached flour
Directions: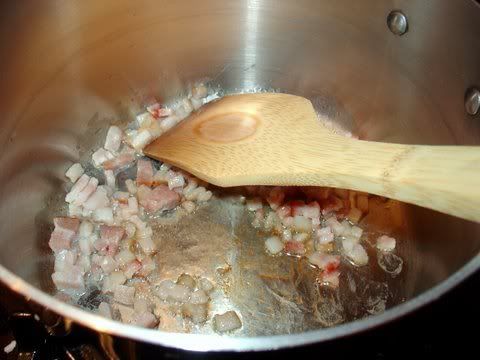 Make a very fine dice of the bacon and saute in a large soup pot over a medium heat, then finely dice the onion and celery, add to pot and saute.
Add salt, cracked pepper and thyme to the pot and stir into the vegetable mixture and add the milk reserving one cup. Add the clams and reduce the heat to a simmer. Dice the bell pepperand the potatoes and add them to the pot, cover the pot. Stir occassionally and check to see if the potatoes are cooked.
When the potatoes are almost fully cooked through, turn off the heat and set aside. Melt the butter in a saute pan and when it's melted add the flour, stir to cook the flour, but do not let it brown. Add one cup of the milk to the flour and butter, stir until incorporated over a very low heat. Add to the chowder and stir until the chowder thickens. If it is too thick, add the additional milk.