Polenta cups started as a way of creating a small edible cup for an hors d'oeuvres filling based on a Thai Green Curry. I didn't believe I could make one of rice that wouldn't fall apart, so I subbed white polenta for the rice, not so far a stretch since they are both starchy. To further enhance an Asian taste I added sesame seeds, scallions, and black sesame oil. After the success of that one appetizer I have expanded on the theme.
Thai Red Pork Curry................... Italian Sausage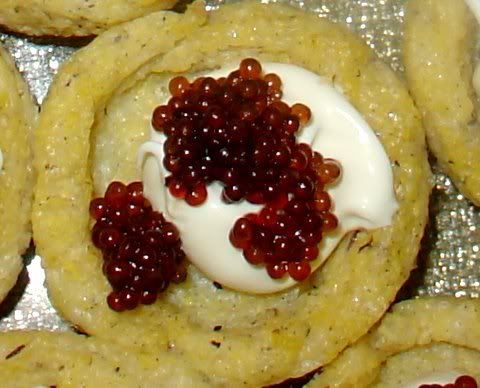 Truffled Caviar.......................... Goat Cheeese & Shitake
Ingredients:
1C polenta
4C water
1/2t salt
Directions: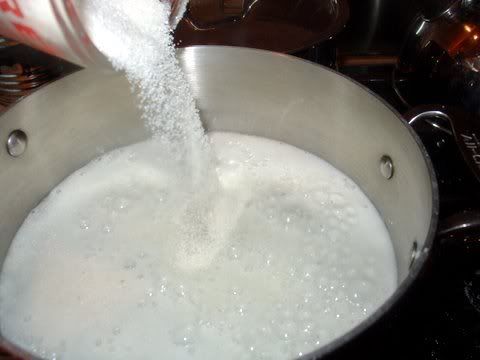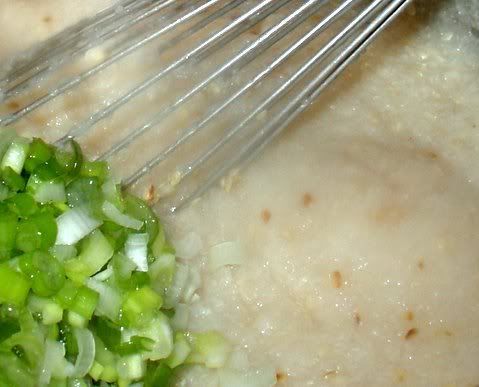 Bring the water to a rolling boil, add the salt, and slowly pour in the polenta while constantly stirring with a whisk. Add in any other ingredients to flavor the polenta. In these photographs I was making the cups for the Thai filling and did not make accurate measurements, but it was probably 1/2C toasted white sesame seeds, 2 chopped scallion, and 1T black sesame seed oil (toasted sesame seed oil is a reasonable substitute). Flavor Notes: If I were making an Italian filling I'd add 1/3C grated Parmigiano and butter to taste. For the truffled polenta cups I use about 1T truffle paste or tartufata and 1/3C Parmigiano.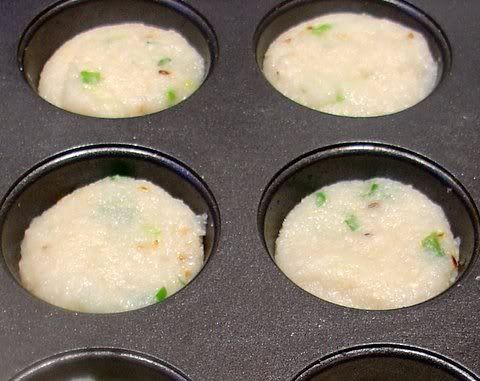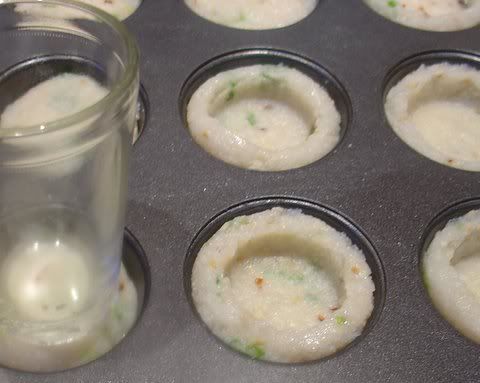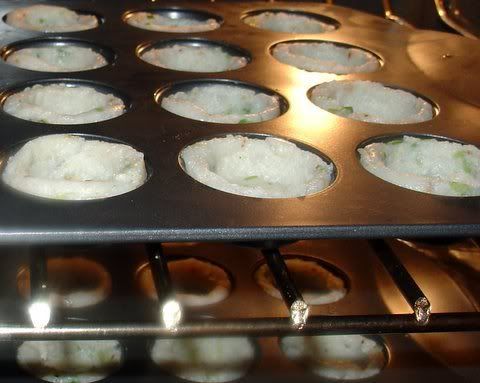 Once the polenta is thick, fill the nonstick mini muffin pan about 3/4 full, let stand until a thin skin forms as it cools and press a small glass or other flat bottomed item into the polenta to create the cup well. If you can't find the proper flat bottomed utensil to use, let it stand longer and press an indentation with your fingers. Heat for 5 minutes in a 400 degree oven to help decrease the moisture in the polenta and store covered in the refrigerator.
Note:
If the polenta cup seems as though it still needs to lose moisture, flip them upside down onto a cookie sheet and bake for another 5 minutes.