The day after our annual holiday party, we were going to a small dinner party and I wanted to bring the hors d'eouvres. What I had leftover from the party was recombined into different appetizers, since my hosts had also been our guests the night before. This has to be the best combination of items I have ever put together, both taste wise and visually.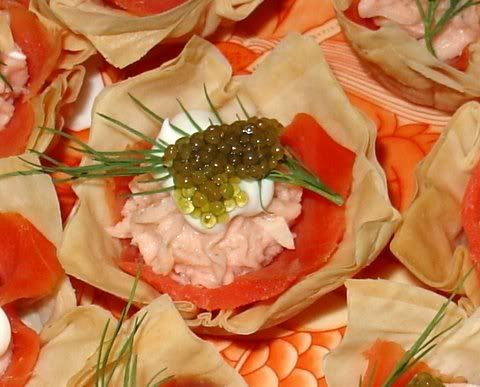 Ingredients:
smoked salmon
salmon butter
creme fraiche
fresh dill
wasabi flavored whitefish eggs
Ingredients for the Salmon Butter:
6oz smoked salmon
4oz softened sweet butter
juice of fresh lemon
chopped fresh dill
freshly grated black pepper
Directions for the Salmon Butter:
This one's easy; place all ingredients into a food processor and pulse to blend. Start out with small amounts of lemon juice, dill and pepper, then adjust for your taste.
Ingredients for the Phyllo Cups:
phyllo sheets
extra virgin olive oil
Directions for the Phyllo Cups:
First you need to make the

phyllo

cups using 3 layers of

phyllo

per cup. Brush the olive oil sparingly onto the

phyllo

, add a 2

nd

layer of phyllo, brush that with the olive oil or if you prefer you may use unsalted butter, then a 3rd layer of

phyllo

. For easy assembly, I cut the

phyllo

into long strips the length of the sheet and 2.5" wide, layered the long sheets, then after the 3 layers were achieved I cut the strip into 2.5"" lengths with a scissors. If you prefer you may use entire sheets, then cut accordingly. 2 1/2" squares will work just as well. Fit each layered

phyllo

square into the mini muffin pan and press them into place. Bake at at 350 degrees until they turn golden brown. Set aside. These keep nicely for weeks if stacked on a tray and covered with a cloth, so they can be made well in advance.
Directions for Assembly: