A trip to a new grocery store
,
99 Ranch, was the inspiration for this fried mussel recipe. I was amazed at the price of a package of about 30 large green lipped mussels, already shelled and cooked; for $3.42 I just had to buy them. I thought the fact that they were already cooked was going to present a problem, but this treatment worked out just perfectly.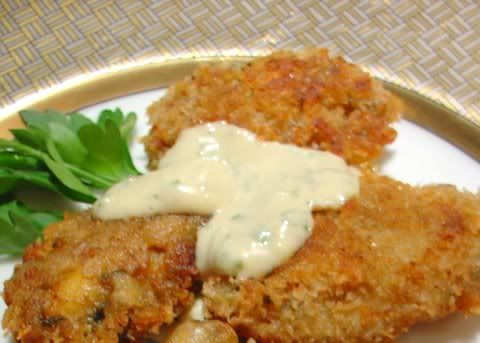 Ingredients:
large green lipped mussels
sake
flour
1t grated fresh ginger
1/4C cilantro
Panko

bread crumbs
extra virgin olive oil (peanut or corn oil)
2 cloves garlic
1T toasted sesame oil
Directions:
First make 1 cup of thin batter with flour and sake (I just mixed them in a measuring cup), then added the chopped cilantro and grated ginger. Heat enough oil to fry the shell fish in a large frying pan over a medium high heat, add the sesame oil, and 2 smashed cloves of garlic to flavor the oil. Rinse the mussels, pat dry and dredge in flour, dip in the batter, then coat in

Panko

. Fry until golden brown on both sides, drain on a paper towel and serve.
Note:
The above photo shows a tarter sauce made of mayonnaise,

wasabi

powder, chopped cilantro and
a very small amount of seafood chili
sauce.