The only time I even recall hearing of this soup or seeing it on a menu was at

Enzo and

Piero restaurant on Via

Fienza

in Florence. My sense of adventure got the best of me and I ordered it. Was I surprised to find a raw egg in my soup! I have tried making it with what I can remember of that recipe. I have since seen recipes that mention poaching the egg first, but that is not how it was served.
I'm not certain that cheese was involved either, and definitely no butter.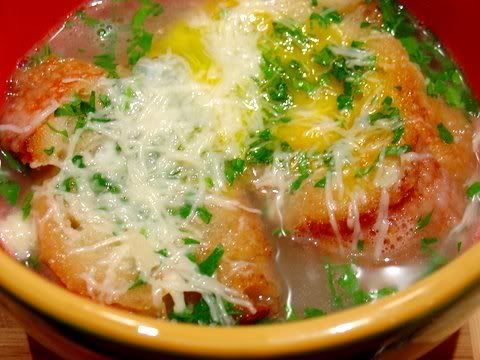 Ingredients:
rustic Bread
eggs
chicken stock
butter or garlic
fresh chopped parsley
Directions:
Before you do anything else, get your chicken stock in a pot and get it to a point where it is scalding hot. It's what cooks the egg. Cut thick slices of the bread (I like Grace Baking Company P

ugliese

bread for this soup) and toast it.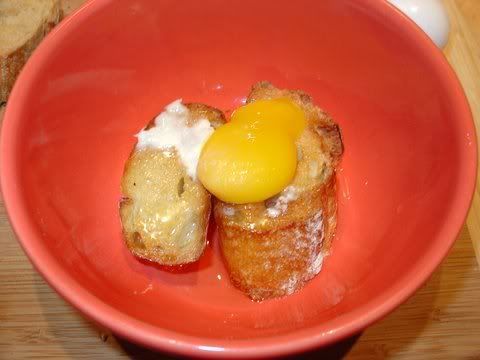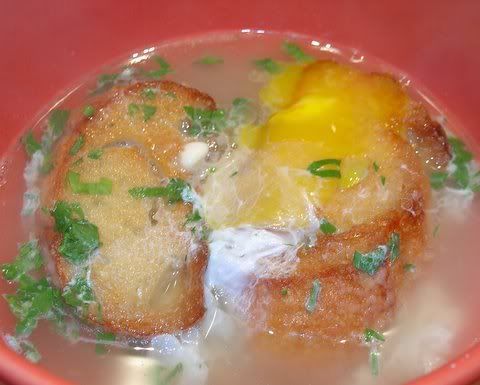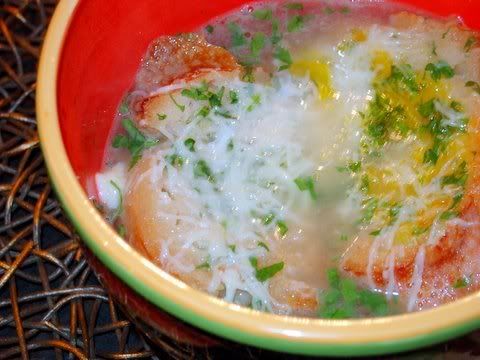 While the stock is boiling, and the bread slices are toasting, chop your parsley. Place the toast in each bowl and butter it, or for even better taste, rub it with cloves of raw garlic. Next place a raw egg on top of the toast (one large slice works better than 2 small slices, as the egg can fall between the 2), then sprinkle parsley over them and pour the stock into the bowl from the side until it covers the egg. As the toast absorbs the stock the egg will become exposed and will stop cooking so make sure you cover the egg at first and that the stock is at a rolling boil, or the egg will not cook. Sprinkle with Romano or

Parmigiana

cheese and serve. If you want to omit the cheese I would suggest that you salt and pepper the soup.