Once again, my pantry was responsible for another recipe idea. I've made this shortbread recipe several times, but it never occurred to me that a chocolate coating would work. That all changed when I remembered the

Guittard

Lemon flavored chocolate I had bought on impulse. Combining the two makes for a more sophisticated version of shortbread.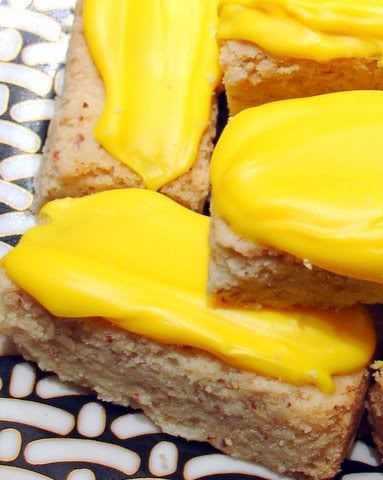 Ingredients:
2C unbleached white flour
8 oz. unsalted butter
1/2C almond meal
3 oz. sugar
zest from 1 medium lemon
Guittard

Lemon Chocolate
Directions:
Blend the first 4 ingredients with a fork or in a food processor until they reach a crumbly stage. In a greased 8" or 9" square baking pan, evenly distribute the mixture by pressing it firmly down with a fork, then obscure the fork marks by pressing further with your fingers or a spatula. Bake until golden brown in a 360 degree oven for about 30 minutes.
Take from the oven and cut the shortbread into "fingers" before letting it cool. When the shortbread is cooled spread the chocolate on top. The chocolate may be melted by using 25 second bursts in a microwave set on high and

stirring

in between

each burst until you achieve a smooth texture. If the chocolate should seize, mix in a small amount of soft butter.