Some delightfully delicate sauces have been made with zucchini blossoms and I've always savored them when available to order. Finding baby zucchini in the

Alemany

Farmer's Market inspired me to try this risotto. Next time I'll peruse recipes from Italian cookbooks for a cream sauce, but this time I decided to experiment. How can one go wrong with fresh vegetables?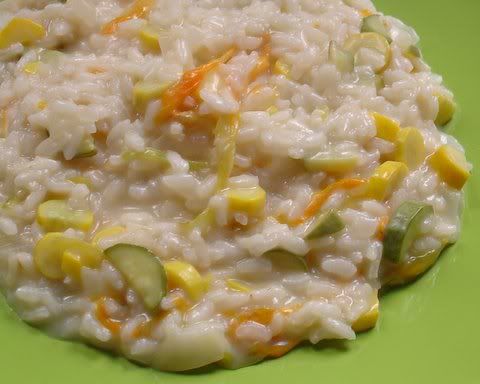 2C yellow & green zucchini
15 small zucchini flowers
1C dry white wine (chardonnay)
1 64oz can of chicken broth
1 1/2C grated

grana

padana or parmigiano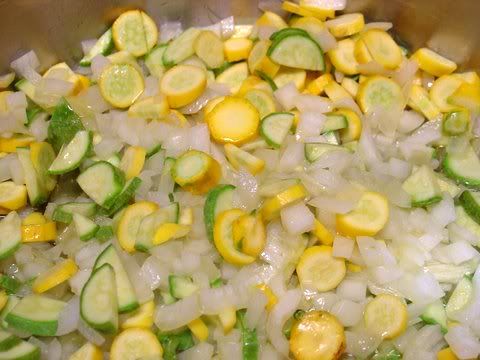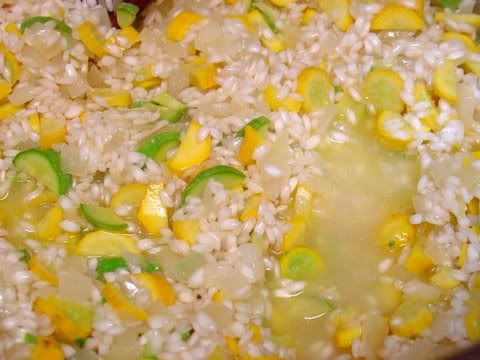 After removing all the flowers, wash, thinly slice and coarsely chop the zucchini. Take the stamens from the flowers and toss, setting the blossoms aside. Finely dice the onion and saute in the olive oil until translucent, then add the zucchini and saute a few minutes more, adding more oil if necessary. Add the rice to the pot, sauteing until the rice looks opaque, now add the wine and continue cooking and stirring until the liquid is absorbed. Add the stock one cup at a time until it is absorbed, stirring all the while.
Chiffonade

the blossoms and stir into the risotto before adding the last cup of chicken stock. After you have added the stock, stir until the stock is almost fully absorbed. It will look thickened and milky.