Never one to leave well enough alone (at least in the kitchen), I managed the courage to depart from Nana's traditional Chicken Cacciatore recipe to see if I could place my own personal stamp on it. I eliminated the olives as they are so essential to her recipe and then started adding what I thought might enhance the dish. The next time I try this I am thinking about using hot sausages and adding salt cured olives for their more robust taste and I believe Nana might approve as they are some of the very few olives one can buy these days that still come with their pits intact and she always insisted on olives with pits for cacciatore, saying they tasted better.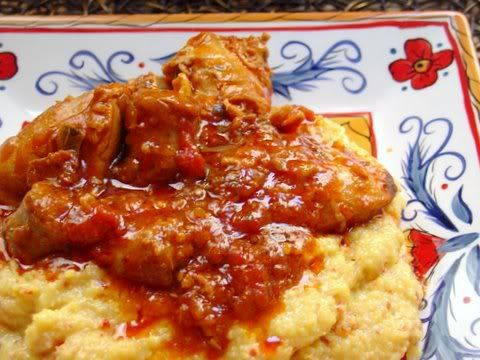 Ingredients:
3 large chicken breasts
5 Italian sausages
1 large yellow onion
5 cloves garlic
1 2" sprig of rosemary
1T chopped parsley
1 large can of tomato sauce (I used Contadina)
1/3 large can of water
1 regular can of stewed tomatoes
1 1/2 oz of dried porcini mushrooms
extra virgin olive oil
Directions:
Same directions as for Nana's cacciatore; cut the chicken breasts into 3 meaty parts, then fry in the olive oil to brown. As long as we're looking at the raw chicken in the photo, let me take this time to say that Nana's grocery instructions always included the information to "select a chicken with the whitest skin" as it was indeed younger. When the chicken starts shrinking, move it around to fit in the sausage that have been cut into 4 or 5 pieces so it can also brown.
Remove the browned chicken and sausage and place on a plate to rest, then add the diced onions to saute until translucent. Next add in the garlic and minced rosemary to saute while stirring for a minute or two.
Now add in the tomato sauce, water and stewed tomatoes (crush them with your hands if the pieces are big), stir the sauce in, then add back the chicken, sausage and all their juices from the plate.
Stir, then toss in the porcini (I crushed it in dry, but you can place the porcini in hot water first, especially if you suspect they have dirt on them. That water can then be used in place of the 1/3 large can of water). Finally add in the chopped parsley, stir, cover with a lid and simmer for 45 minutes to an hour, stirring every 15 minutes to prevent scorching on the bottom of the pan. Use the sauce for topping polenta or over pasta and serve the sausage and meat as another course.