Loving to cook, does not preclude my dislike of making custard type ice creams. They take far too long and like a kid in a candy shop, I need to get my fix right away. My quest has been to develop my own frozen dessert recipes in as short a time as possible. If you place your fruit in the refrigerator overnight, you can make this recipe in 40 minutes. Though not the least bit silky, the texture is still pretty good considering the speed lightening execution of this formulation; and it didn't even require a simple syrup.
Ingredients:
3 1/2C peaches
1C sugar
2T corn syrup
1 1/2C heavy cream
Directions:
Place fresh peaches in the refrigerator overnight, wash, pit and pulse in a food processor until pureed. Yes, include the skin as it adds fiber to your diet and provides an excellent excuse for eating ice cream. Add sugar and corn syrup and mix. If you have not chilled the peaches beforehand then chill this mixture and continue your recipe later. I believe this recipe can substitute Splenda for sugar, but haven't tried it yet.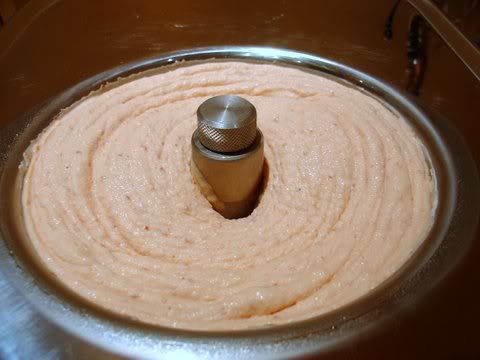 Add the cream to the pureed peaches and place in your ice cream maker. Mine requires 30 minutes for processing the mixture into ice cream.