When you're throwing a large party, all sorts of last minute creations spring up out of ingredients on hand. This spread is a perfect example of that. With leftover Gorgonzola, goat cheese and mascarpone, it was natural to think of a spread for crackers or to use as a filling for a lavash roll.
Ingredients:
4 oz. Gorgonzola Dolce
4 oz. goat cheese
1 container of mascarpone
4 oz. dried sweetened cranberries
4 oz. chopped pecans
cream or milk to thin.
Directions: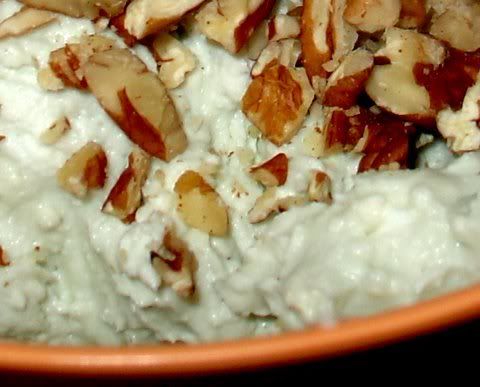 Bring all cheeses to room temperature before combining. I like to do things the hard way so I combine with a fork instead of pulsing in a food processor. Chop and toast the nuts and let cool before adding to the cheese mixture. Chop the cranberries and fold into the mixture. If you think the spread is too thick, add a small amount of milk or cream to thin out. Now it can be placed into a bowl for spreading and served with crackers, or spread across a lavash, rolled, secured with tooth picks and cut into festive spirals
.