I don't think Mom ever made peas without mushrooms, although perhaps she did. All I know is I really liked them. Many a time I would be scolded for eating the can of B&B mushrooms she had purchased to prepare with peas; it was my favorite after school snack! Now I won't eat canned mushrooms after discovering
how much better sauteed fresh mushrooms taste.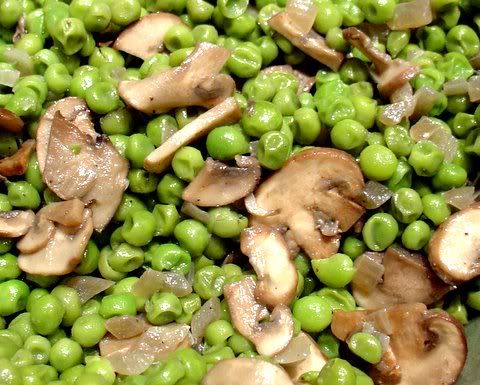 Ingredients:
2 packages frozen peas
1/2 pound fresh mushrooms
1 small yellow onion
2T extra virgin olive oil
2T butter
salt and pepper to taste
Directions:
Do I even need to go through this? Just in case, finely dice the onion and saute in the olive oil until translucent, then add the thinly sliced mushrooms and saute until wilted. Steam the peas as per package directions, then add to the sauteed onions and mushrooms. Stir to mix, then add salt, pepper and butter.