Originally, this recipe was inspired by a mussel foraging trip with friends. We all met at a local beach during low tide and the friend doing most of the work hauling water, a propane burner and huge pot happened to be Chinese American. Since I had volunteered to bring the condiments, I wanted to create a recipe that might appeal to him in particular, so I selected some ingredients with an Asian flavor profile including the oil and alcohol. We also did a white wine version that could be either French or Italian, but the Asian version was the clear favorite.
Ingredients:
3 dozen clams
1/2C Japanese sake
1T garlic
1T fresh ginger
1T cilantro
1T black sesame oil or toasted sesame oil
1 loaf

Puglese

or French bread
butter
Directions: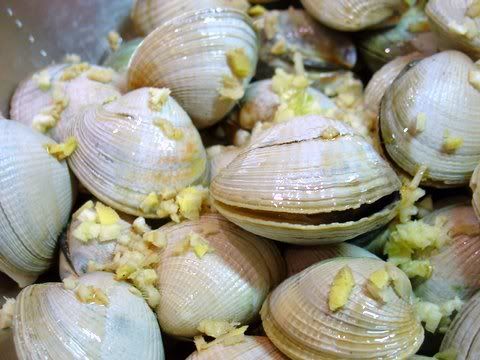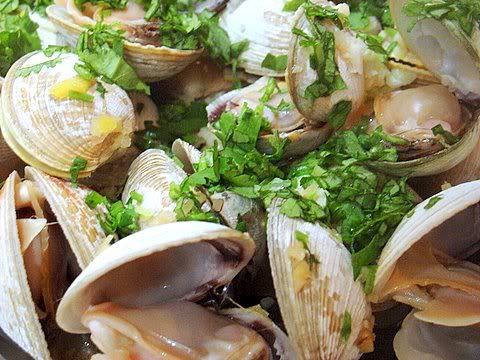 Scrub clams and place in a large stockpot. For each dozen clams add one teaspoon of minced garlic and minced fresh ginger. For the purposes of this recipe I will say to use 1T since I used about 3 dozen clams. After adding the chopped garlic and ginger to the pan, pour the sesame oil over the clams and toss in the chopped cilantro. Pour the sake over the clams until you have about 1/3" of liquid on the bottom of the pan. Turn on the burner to a medium heat and cover the pot. Let steam until the clam shells have opened.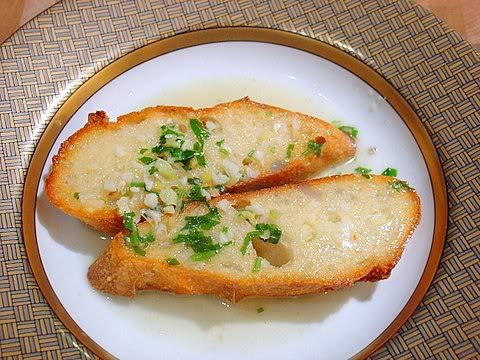 Cut 2 slices of the bread about 1" thick for each bowl and lightly toast them. Butter the bread, place it in the bowl and cover with a

ladle

or two of the clam broth, then pile on the clams. It's as simple as that and makes an quick and easy first course for a formal meal, or a fine meal all by itself. this recipe works equally as well for mussels or clams.