Before we even get started, I confess, I cheated on this and used won ton skins instead of handmade pasta sheets (that would have tasted better), but sometimes we need to use a shortcut and this was one of those times. I would encourage you to "do as I say and not as I do" and use pasta dough made from a traditional recipe. That being said, this tasted good in a pinch. The taste is rich so this recipe works best as a starter, not a main course.
Ingredients:
1 butternut squash
2/3C ricotta cheese
1 pkg Stella D'Oro amaretti cookies
1 batch fresh pasta or round won ton skins
Parmagiano
butter
fresh sage leaves
Directions:
Cut the squash in half lengthwise and remove the seeds. Wrap in tinfoil and bake in a preheated 400 degree oven until it has cooked enough to soften in texture. It would be a good idea to place these on a baking sheet or a layer of tinfoil over the oven shelf, as they often drip during the baking process and the liquid is sticky with natural sugars. This precaution will eliminate a difficult clean up. When the squash is completely cooked, remove it from the oven and let it sit long enough for you to be able to handle it, then scoop the cooked pulp from the skin and measure out 2 cups. The squash needs to be a mashed to a smooth consistency and to be strained of all excess liquid. I do this by placing the pulp into a cheesecloth and squeezing out the liquid. A plain cotton dish towel would work just as well as long as it is not textured like terry cloth. Flour sacking would do.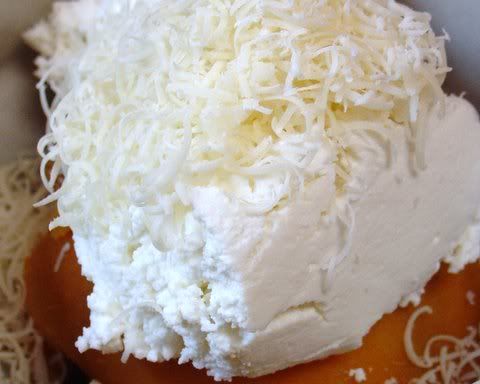 Add in 2/3 cup of ricotta cheese, 2/3 cup of freshly grated Parmigiano cheese, and 3 amaretti cookies that have been crushed to a fine crumb. Mix all the ingredients thoroughly and place a spoonful (or small scoop, as in the photo above) onto the dough. I like the round shape for tortelloni, but you could easily use a square, or use 2 long pasta sheets (placing the filling on the 1st in batches and covering them with the 2nd then cutting the rounds with a cookie or biscuit cutter). For won tons skins, place water on the edges of half of the filled skin so the dough will adhere to itself with slight pressure from you.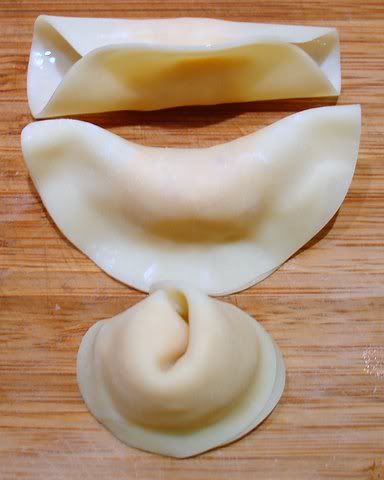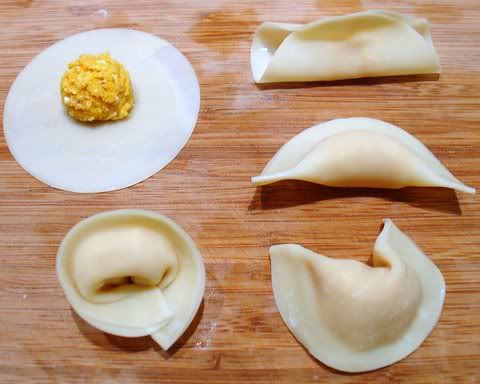 Fold the skin in half and press the edges together for a tight seal. Start in the middle and work your way out to the edges, since this allows the air to be forced out the edges from 2 sides. The 2nd photo shows the process in a clockwise progression starting from the upper left. When you have a half moon shape (or triangular shape if you are using squares) take the two ends and wrap one over the other, sealing with more water (if using squares use the two ends of the longest side or "base of the pyramid"). The tortelloni in the lower left corner of photo #2 above has been turned over after the last step. In photo #1 above, it has been left alone.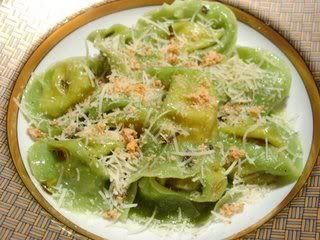 Whether you choose to use spinach pasta or plain, this will be a very rich tasting pasta after you dress it with a butter sage sauce. Traditionally, you can also add crushed amaretti along with the Parmigiano to complete the dish.
Directions for the Sauce:
Simply melt butter in a saucepan, add 4-6 fresh sage leaves until they release their aroma, remove the leaves and serve by drizzling over the pasta.You may choose to mince the leaves before sauteing and serve them with the butter sauce, as in the photo below