New recipes are sometimes driven by ingredients on hand and my pantry was full after a large party where I had served many appetizers including shrimp with cocktail sauce, Vietnamese summer rolls, and Chinese stir fry vegetables baked in puff pastry. What luck to be able to make a soup on a cold night after the festivities! I'd eaten Vietnamese Pho a few times and really liked it so decided to use some of the elements in it to use up the rice noodles, bean sprouts, pea pods and cilantro. Since I had no beef, I subbed shrimp and to complete the soup used Knorr fish bouillon I had found in a Mexican market and purchased, hoping to find a use for one day. Without it, this recipe would not have worked.
Ingredients:
2 1/2C water
2 fish bouillon cubes (or shrimp)
1 small pkg rice noodles
1/2C bean sprouts
1/2C pea pods
2 green onions
1/c cooked shrimp
cilantro to garnish (maybe 1/3C chopped)
Directions: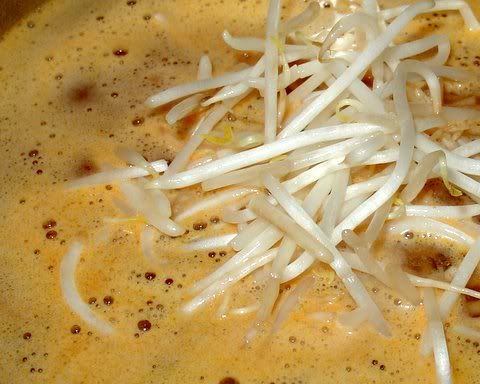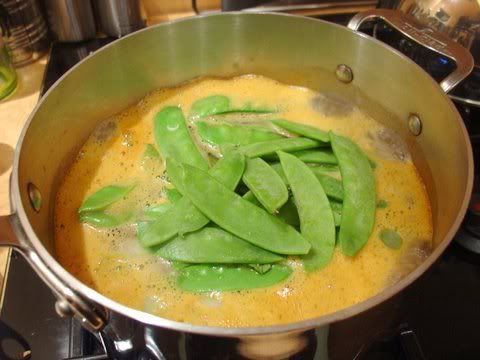 Start out by boiling the water in a 3-4qt pot and adding the bouillon cubes. When the bouillon has broken down and created the broth, taste it and adjust water so it is not too salty. You should adjust water or even add bouillon cubes to suit your own taste. Reboil the broth and add the rice noodles. When the noodles have softened, add the bean sprouts, pea pods and chopped green onion.
After the vegetables are al dente, add the shrimp to heat them. You do not want to boil the shrimp for a 2nd time or they will get very tough, so just simmer them, test to see if they hare warmed and that will be good enough. Plate your soup and a
dd chopped cilantro to serve

.