The only inspiration for this soup was the desire to use up one cup of wild rice and to finish the

guanciale

that was leftover from making

Carbonara

. But that was enough inspiration as it turned out. Wild rice is now my new favorite ingredient to add to soups.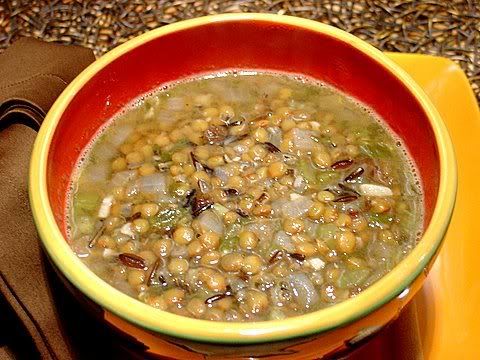 Ingredients:
2C lentils
1C wild rice
1 lg yellow onion
3 oz.

guanciale

(or

pancetta

)
2 ribs celery
4 cloves garlic
1t thyme
1 fresh sage leaf
1T extra virgin olive oil (if needed)
salt and pepper to taste
water to cover by 3"
Directions:
Cut the

guanciale

to a fine dice and render it over a medium heat in your stock pot. Add diced onion (and if necessary, the olive oil) then saute the onions until they are becoming translucent. add the herbs ans continue to saute until they release their fragrance.
Dice the celery and add to the pot. Stir in the lentils and wild rice and stir all the ingredients together. Now add water to cover the beans by 3" then start raising the heat to produce a boil, cover the pot and lower the heat to a simmer. Cook until the lentils are soft. I almost always add salt and pepper at the end of the cooking, but if the water level is getting low and you're looking at a stew and not a soup, add more water and some salt, then adjust the final seasoning when your soup is ready to go off the heat. this soup has a great chunky texture thanks to the addition of wild rice.