This is the recipe that inspired my Asian Style Clam recipe. Friends gathered again this year to forage for mussels and this particular recipe was light, refreshing and very good with bread to soak up the sake based braising liquid. If it were made at home, I'd toast and butter the Pugliese bread, place it at the bottom of a bowl and cover it with the steamed mussels and the resulting broth.
Ingredients:
3 dozen mussels
1C sake
1T toasted sesame oil (I use black sesame oil)
2T minced fresh garlic
2T fresh minced ginger
1/4C chopped cilantro
Directions: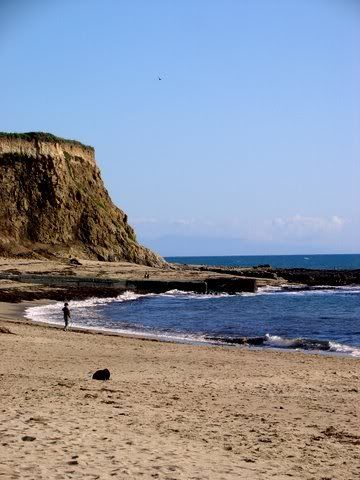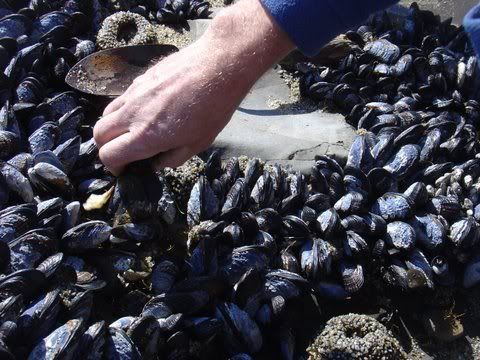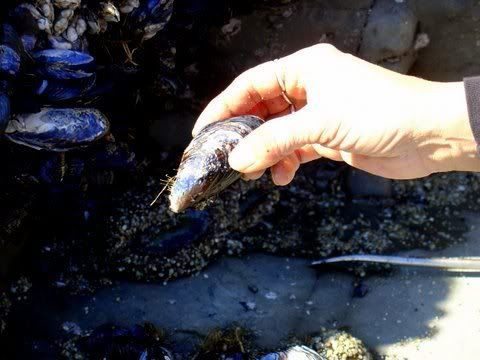 This one is simple. Find a rocky beach in California, at low tide, in any month that has an "R" in it. Buy a fishing license, bring a small prying tool and place it at the base of a mussel, and loosen it up a bit, then twist it off the rocks. For my preference, mussels the length of your forefinger are the perfect size for eating. After you have gathered the legal limit, either take them home, or if you have friends willing to go to the beach with you, carrying with them a Coleman stove and fresh water, prepare this on the beach.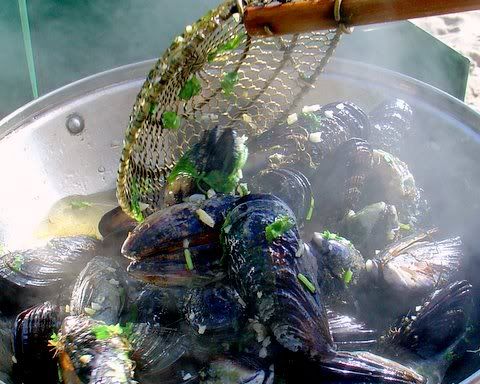 Mix the marinade ingredients together and pour over the cleaned and debearded mussels. Heat them in a wide deep pan over medium high to high heat, and serve when they open up.