Other people have been the inspiration for my favorite mussel recipes. All translate well to either clams or mussels and one of these days I'll also try them with scallops and perhaps even shrimp, but I'm getting ahead of myself. This recipe was directly related to a mussel foraging trip with friends who were bringing along a Thai friend of theirs. To make that

stranger

to our little group feel welcomed, I used classic Thai ingredients for this recipe. The woman never showed up, but this recipe is a keeper.
Ingredients:
1 can coconut milk
3T Thai green curry (commercial brand)
zest of 1 lemon
juice of half a lemon
1t

Sciabica

h

abanero

oil
2 chopped shallots
chiffinade

of fresh basil
3dz. mussels
Directions: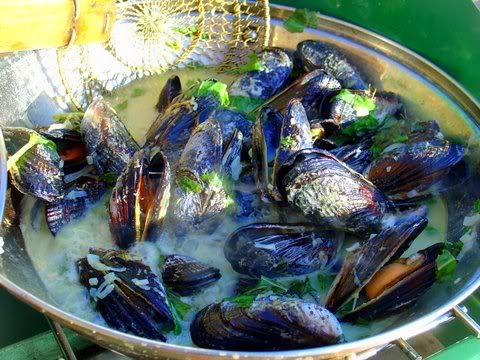 If you're preparing this dish as I did, at the beach, gather your wild mussels, wash and

debeard

them and pour on the ingredients that you mixed together prior to going to the beach. As the sauce starts to heat up, add the basil. I merely cut it with scissors over the pan. Friends have made this so easy by lugging in Coleman stoves, fresh water, pans, you name it. All I had to bring were the ingredients. When the mussels open, they're ready.
If preparing at home, mix all the ingredients but basil, and pour over the cleaned and

debearded

mussels in a wok or 6 quart stockpot that is on a medium high heat. Cover with a lid for 3 minutes and check to see if it is boiling. If it is steaming, add the basil for another minute and cover the pot. As soon as the mussels open, plate and serve. I like to serve it with buttered rustic bread or ciabatta.