Thi
s is a very rich tasting meat sauce that I have developed after reading countless Bolognese sauce recipes. Biba Caggiano has been my greatest influence even though her books contain quite a few different recipes for this sauce. I like to add chicken livers for the depth of flavor they bring to the sauce, but I know for a fact that Biba does not care for them...I asked her one night at her restaurant in Sacramento.
Ingredients:
1/2 lb ground veal
1/2 lb ground chuck
1/4 lb ground pork
4 oz prosciutto
1/4 lb chicken livers
1 medium yellow onion
3 medium celery stalks
2 medium carrots
3T triple concentrated tomato paste
1 1/2 oz dried porcini mushrooms
1C hot water
1C Cabernet Sauvignon
3/4C whole milk
3T extra virgin olive oil
3T unsalted butter
3C porcini broth (3C water, 2 porcini bouillon)
water drained from the porcini
Directions: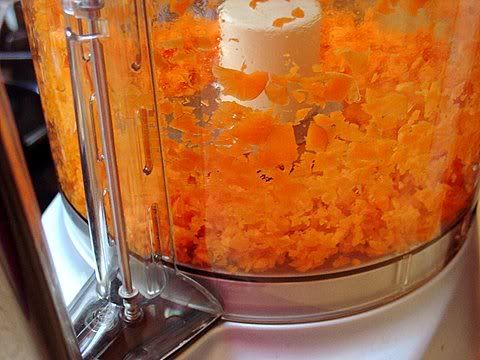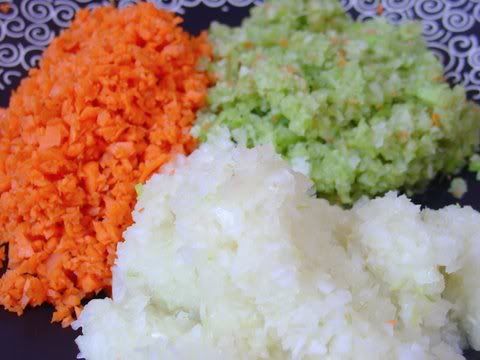 First thing to do is prep your vegetables. Melt the butter in the olive oil using a heavy bottomed stock pot over medium heat. When the butter is frothing add the minced onions, celery and carrots to saute for 5 -7 minutes. I didn't bother mincing, but pulsed them in a food processor until they were finely chopped. With a recipe that has so many ingredients it's nice to not have to mince everything by hand, although I do enjoy doing that most of the time.
Now that the sofrito has cooked down, add minced prosciutto and continue sauteing over a medium heat until the mixture is looking well cooked. While you are waiting for the prosciutto to cook, add 1 cup of hot water to the dry porcini that have been placed into a bowl and set aside.
Add the veal, chuck and ground pork to one half of the pot and saute over high heat until you have broken down the meat into very fine pieces, then mix with the vegetables and saute longer until you start to get caramelization on the pot. Next add the chicken livers and saute them in an open space in the pot until they firm up. There should be enough fat to do this, if not add olive oil.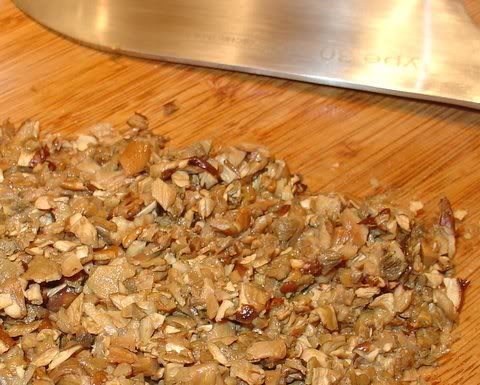 Remove the cooked liver from the pot and mince it, then return to the pot and stir all the meat until it browns a bit. Next comes the wine. I used Cabernet since it is a medium bodied red and it was on hand, but many recipes use a dry white or Chianti. Because this recipe is Bolognese a Sangiovese from Emilia Romagna would be perfect. Cook the meat until the wine absorbs completely. While you wait, squeeze the porcini dry, until most of the liquid remains in the bowl, and mince the mushrooms. Drain the leftover liquid in either a small strainer or through a cheesecloth to remove sand or dirt.
Now caramelize the tomato paste in the pot and mix with all the meat. If you cannot find the triple concentrated tomato paste in a tube, use a very small can of domestic tomato paste.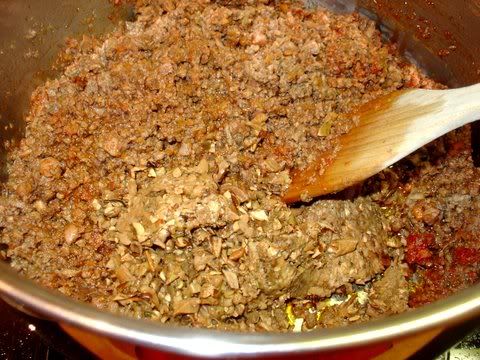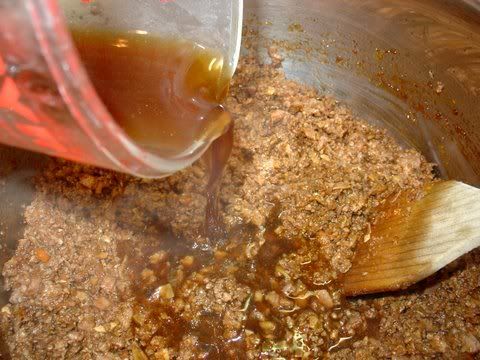 Add the minced porcini to the meat mixture once the wine has completely reduced, then saute for a few minutes. The next step is to add the drained porcini water (about half a cup), 3 cups of water and 2 porcini bouillon cubes. Turn up the heat and when the sauce is boiling, turn down the sauce to a simmer, cover the pot partially to allow the steam to escape and reduce the sauce. In the absence of porcini bouillon you can substitute chicken broth.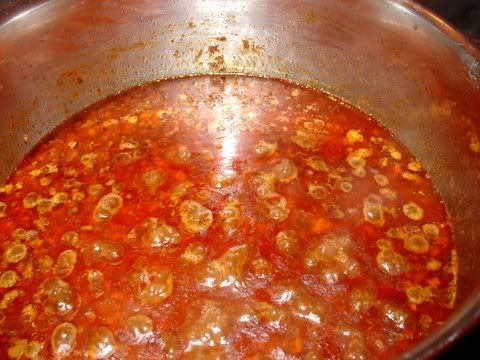 This can take up to 2 hours, so check every 20 minutes and stir. After this process, add the milk and continue to heat for anot
her 15 to 20 minutes until the sauce completes its final reduction. You should have a nutty brown sauce that is perfect for making Lasagne Verdi Bolognese. To use this as a sauce for pasta, I would most likely add more tomato paste or even a can of sauce.