When we were on our honeymoon in Venice, we walked into La Bomba, a cichetti bar off the Strada Nova, and started ordering small plates of food to eat while we sampled the local wine. The original owners spoke a little English, so we asked what some of the items were. Meatballs were available so we ordered them. We pointed at them and asked what the Italian name was and the owner said "polpette", then added his own English translation for us "special meat". To this day, 20 years later, we still laugh when we see meatballs and say aloud "special meat". I couldn't remember Nana's recipe when I bought the meat to make these, but she used only ground chuck. I have yet to tweak this recipe to perfection, but since these are going into a sauce, they'll do. La Bomba is under new ownership now, by the former chef and his wife who is fluent in English. Although they still serve polpette, special meat is no longer on the menu.
Ingredients:
1/2 lb ground chuck
1/2 lb ground veal
1/4 lb ground pork
1 cloves garlic
1/3 bunch parsley
2C fresh bread crumbs
1C Romano Cheese
1 egg
olive oil
water
Directions:
Take the breadcrumbs and add water, then squeeze out the water and place the wet crumbs into a bowl. Break the meat up and place it into the same bowl, then set aside. Mince the parsley and garlic and add to the bowl of other ingredients.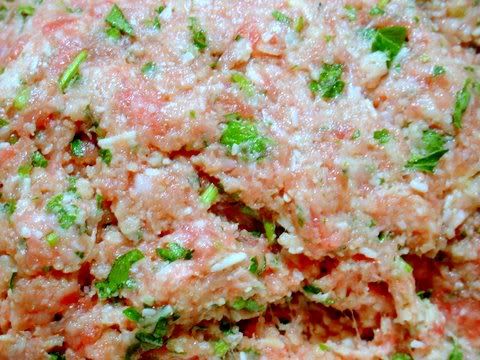 Now grate the cheese and place it into the bowl along with a large raw egg. Mix loosely with a fork, then mix with your hands until you get a good homogeneous, well blended mixture.
Shape small amounts into meatballs the size of walnuts, and fry over a medium heat in a pan covered with 1/4" of olive oil. Turn and brown each meatball on all sides. They may stick a little, so jiggle them loose with a fork. I don't know why they are called meat balls, because the minute you start frying them, they flatten out. I suppose meat "pyramids" is out of the question, but that's what I ended up with when I didn't finesse the meat around the pan. Your object is to lightly brown the meatballs as they become part of the spaghetti sauce and cook for 20 minutes in the sauce.
My idea for this group of meatballs is to add them along with the braciole and some hot Italian sausages to make what the Napolitani Americans call a "Sunday Sauce". The sauce that simmers on Sunday mornings while the family is at mass and the nonna is watching the pot.