Had I known how easy a pot pie could be to construct, I would have been making them for many years. As it is, I feel compelled to try many variations on this recipe and already have my next recipe in mind. It will be a Thai Green Curry with the crust made of a basil or coconut flaky pastry dough. I can't wait to experiment.
Ingredients:
2 carrots
2 ribs celery
1dz small cippolini or boiling onions
3 medium rose potatoes
1 chicken breast
bechamel sauce
3T fresh pesto
frozen puff pastry
Directions: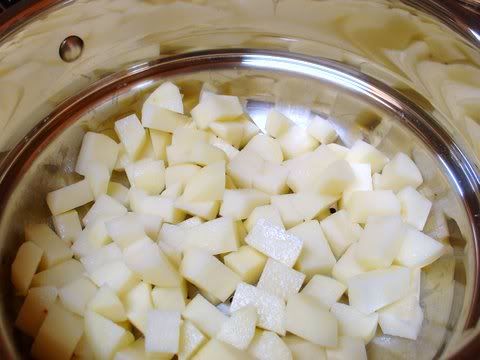 Wash all the vegetables and peel the carrots and potatoes. Cut the celery, carrots and potatoes into 3/4" -1" dice and set aside. Steam the onions and carrots together, then remove the onions as they soften a bit, remove and peel the onions, then set aside in a large bowl. Add the celery to the steamer and continue steaming until both the carrots and celery are still stiff, but not crunchy. Remove them from the steamer and set aside with the onions. Steam the potatoes until they release some starch but are very undercooked, then set them aside with the other vegetables.
Steam the chicken for about 5-8 minutes until it is pale pink inside, but not fully cooked. Cut the chicken into very chunky pieces and mix with the vegetables. My biggest problem with pot pies is that there is usually too much sauce and not enough filling, especially the meat or poultry. This recipe fixes that problem, once and for all. No skimping in my kitchen!

Preheat the oven to 400 degrees.
For this recipe I took my standard bechamel sauce and made it a little thicker by using 3T butter, 2T flour, and 1 3/4C milk, making the traditional rue from the flour and butter, then adding the milk and whisking until the sauce thickened considerably. I added a cup of grated parmigiano cheese and then added 3T thick pesto sauce that I made with basil, olive oil, garlic and toasted pine nuts. Add the vegetable chicken mixture to the sauce and blend well, then spoon it into 5 -6 ramekins. Cut out an equal number of rounds of puff pastry and place over the ramekins. Press the sides of the pastry against the ramekin walls with a fork, then make a frilly border by rolling leftover pastry into a rope and placing it around the sides of the ramekin.
Place the ramekins on a cookie sheet and bake in the oven for 20 minutes or until the pastry puffs and becomes a golden brown color. Remove from the oven and let rest for 5 minutes before serving.