The very first time I discovered this classic pasta dish was during a quick lunch in La

Spezia

Italy on the

Ligurian

coastline. We were on our way to

Borgo

Val

di

Taro (

Borgotaro

), a big time

porcini

gathering area, and needed to make a train connection
with a 2 hour layover. A small restaurant a few doors down from the station seemed the perfect place to kill the time. As we walked into the pale pink dining room I was hoping the food would be better than the decor, but knew that I was bound to get a decent meal at a traditional

trattoria

. As is our custom when traveling, we followed our noses to find this little gem of a restaurant and the pasta was a revelation to my palate. A second trip and a second helping were necessary to perfect this recipe, but we didn't see it as a hardship.
Ingredients:
1 pound

pappardelle
1/2 cube unsalted butter
1T extra virgin olive oil
2 cloves of garlic
1/3 pound of fresh

porcini

mushrooms
1/4C freshly grated

parmigiano
fresh Italian parsley (optional)
Directions: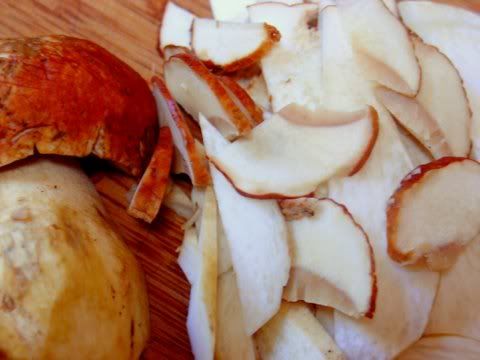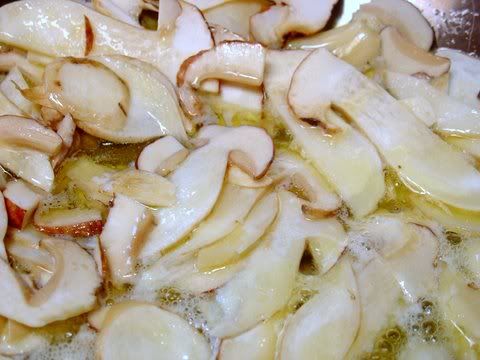 Start a pot of water boiling. After brushing off the

porcini

to clean it, slice it into very thin slices and set aside. In a saute pan add the butter and olive oil and melt them slowly over a low heat. Peel the garlic cloves and smash slightly with the side of a broad knife. If the water is

boiling

start the

pappardelle

cooking. When the butter has melted, add the garlic, increase the heat to medium low, and saute to impart the garlic flavor into the butter.

Remove

the garlic and add the sliced

porcini

,

stirring

constantly until the

porcini

have released their fluid and are limp. Your aim is to get a custard like

mouth feel

from the

porcini

.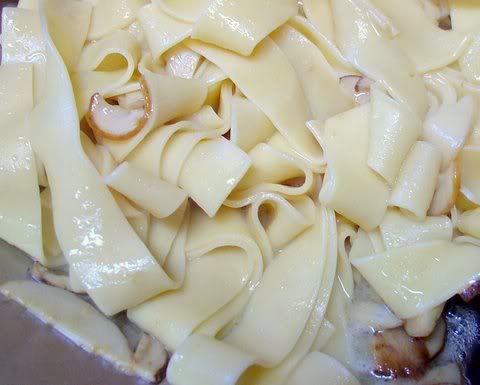 Drain the pasta and add to the saute pan, mixing it into the butter sauce. When the liquid from the pasta had reabsorbed into the pasta, add the freshly grated

Parimgiano

and stir until it incorporates well into the pasta. Plate and serve. You may add freshly chopped parsley for a more colorful presentation.