I have such great fun

repurposing

leftovers, so they are nothing like what their components were when originally used. This sweet yet savory napoleon is a good example of that. The idea for this particular cheese mixture of minted goat cheese came from the one that originally topped fresh figs. But since I had puff pastry in the house I decided to try something different with the cheese. Although good, I think I can tweak this recipe into being something even better.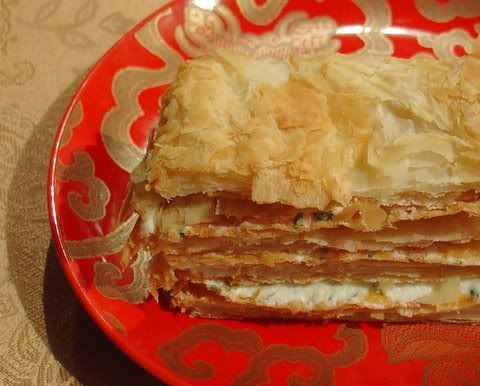 Ingredients:
1 package frozen puff pastry squares
4 oz. goat cheese
4 oz

mascarpone
fresh mint
honey
Directions: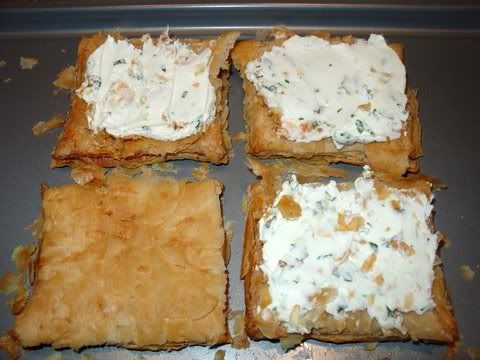 First thing to do is to bake the puff pastry according to package directions. This is easier said than done when you buy yours from a Middle Eastern market where the

packages

have no directions. I decided to go for a safe 375 degrees and that worked well. Halfway through the baking, w

hen

the pastry is starting to rise, place another baking pan on top to stop the dough from rising to much. On this particular baking, I waited too long and as you can see from the 2

nd

photo above, the pastry started flaking when I spread the cheese on top. Chop up some mint and add it to the softened

goat cheese

and

mascarpone

for the spread. I added the mascarpone to give a creamier texter and more buttery taste to the cheese spread.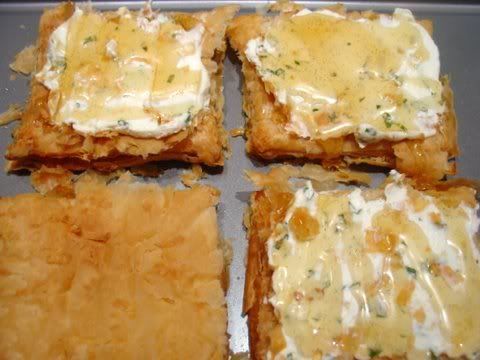 After spreading on the

goat cheese

, generously drizzle on the honey, add another layer of the pastry, then spread on the cheese mixture and drizzle more honey, then cap with a final layer of baked puff pastry. In the photos you can see that I did the entire process using square dough, thereby forcing myself to cut the final product into individual portions. Do yourself a favor and cut the dough into portion size pieces before you bake it. That's the way I'm going to do this next time and I may also add sugar to the minted cheese. The recipe is savory, but I think the added sweetness will enhance the cheese taste without making this a sweet dessert. All in all it was a good way to use up the leftover minted

goat cheese

.