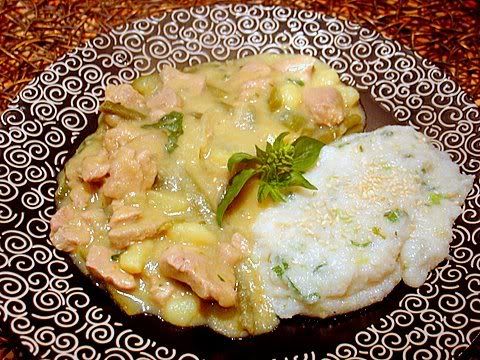 Trying to cook dinner for a Vegan friend was a challenge, but I adapted this recipe by cooking the pork separately and adding it to the curry after plating the portion that would work for my friend, namely the vegetable portion. In this particular try the potatoes were overcooked, so my timing was a bit off, as are the photographs. The taste was still good while the texture suffered.
1 small pork loin(8-12 oz)
4 small to medium Yukon Gold potatoes
3T olive oil (sub whatever you like)
Directions:
Thickly slice the onion and saute 1/3 of it in 2T of the oil over a medium heat until barely translucent, then add the sliced pork loin and saute until cooked through. Omit this step for a vegan or vegetarian dish. Set aside and start sauteing the vegetables in a clean pan.
Saute the remaining onion in the remaining 1T of oil, then add the green beans, saute a bit more and add the potatoes. After a few minutes, add the coconut milk. The white clumps in the photo are the fat solids from the coconut milk, and they melted into the curry without a hitch. Add the green chili paste and if 2T aren't hot enough adjust the amount. Cover the pan for 5 minutes and turn the heat down to simmer. Test the texture of the potatoes and when they have cooked, add the chopped basil. I served this with white polenta that had been cooked with green onions, toasted sesame oil and toasted sesame seeds, but jasmine rice or basmati would work just as well. The polenta recipe is located in the appetizer recipe for polenta cup construction.