This is a recipe given to me by the sister of a dear friend who shared his family with us on a trip to Monte Sant'Angelo in Puglia. We were amazed at the generosity of this family. Not only did they make dinner for us, but cleared their calendar to give us a tour of the entire peninsula the following day and another dinner. They will forever be in our hearts. Ostia is the Italian work for host, referring to a communion wafer and piena means full while I believe ripiena means filled. The very thin wafers are not sold here, but I found a suitable substitute in a local Mexican market.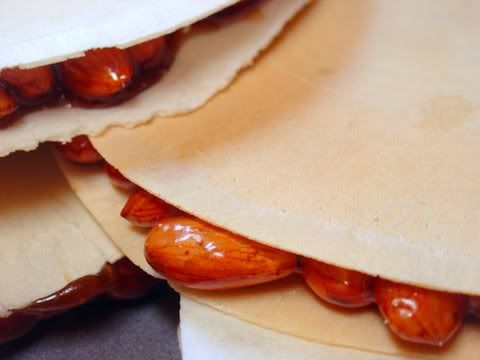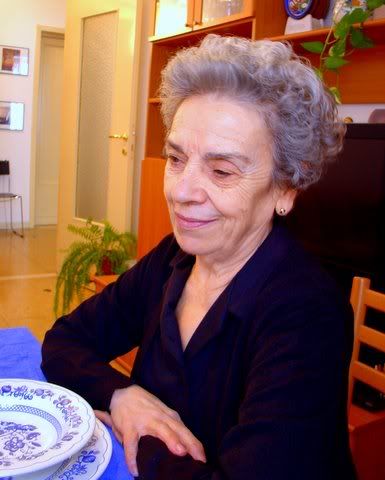 Ingredients:
2 pounds whole almonds
300 gr honey
100 gr sugar
cinnamon to taste
flour wafers
Directions: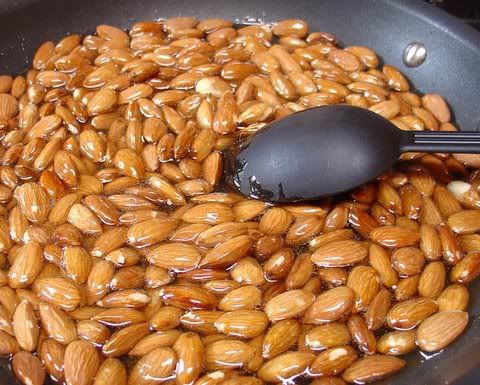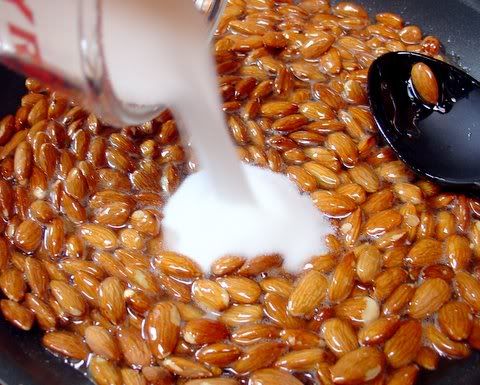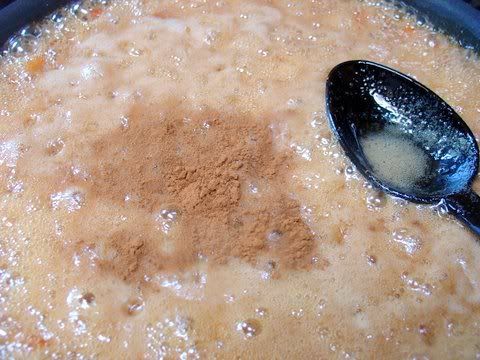 Heat the almonds and honey until the honey thickens then add the sugar until the sugar melts. Add the cinnamon to taste and take the pot off the heat. Take the ostia and lay on a flat surface, then fill with the almond mixture, place the 2nd ostia on top and flatten with a heavy object like an iron.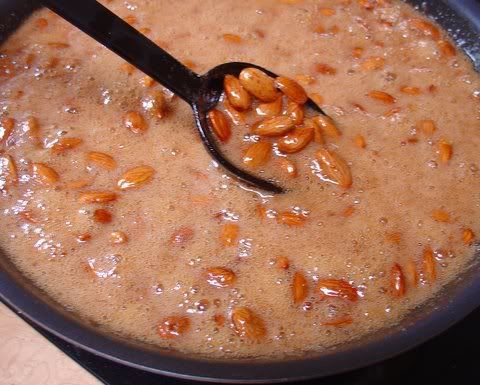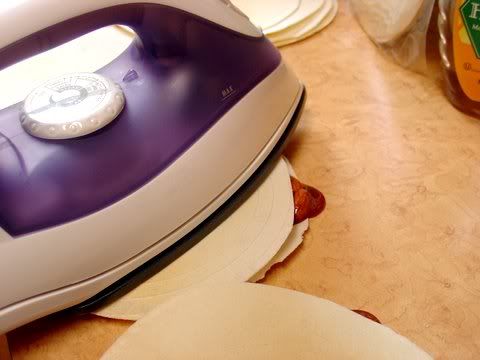 Heck, I don't know a gram from a kilogram except that it may be 100th the size, and 28grams are in an ounce, but the math got so confusing, I decided to use about 22 ounces of honey, 2/3 cups of sugar, 1 1/2 pounds of almonds and 1/2t of cinnamon. Since I couldn't judge how thick it had to be, it seemed a good idea to use a candy thermometer and at least get it between soft and hard ball stage. Even though my ancient candy thermometer is a bit untrustworthy, it seems to have worked.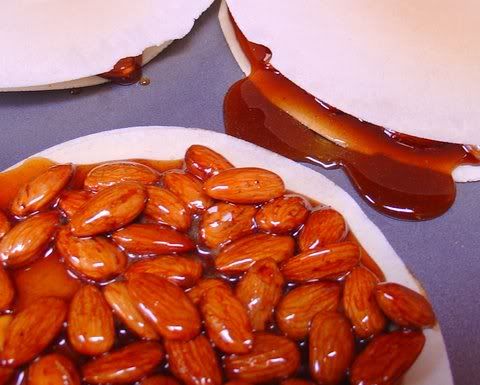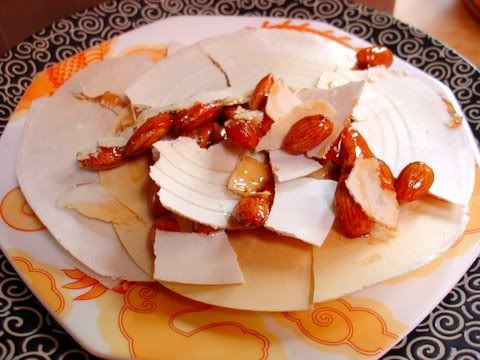 Here is one big caution for anyone trying this recipe, don't get smart and decide to do this on your kitchen counter; bad, bad idea. I lost two that way, but luckily I figured out it wasn't going to work well before more were ruined. Don't scoop too much of the honey either, because when it overflows, even onto Teflon, it will stick and be impossible to lift without breaking the wafers. Luckily some scissor trimming helped me to salvage several of the Ostia Ripiena that had this particular problem.
It came as a big surprise that the wafers started changing shape the minute they were hit with the hot caramel, so I had to work quickly. I tried to get the almonds into one layer fast, then top them with the second wafer, but they were shape shifting the entire time and I only had one iron. Since they needed to be weighted down, Plan B quickly took shape and I grabbed 3 Teflon coated sheet pans, pulled off 2 and threw more wafers on the bottom pan, filled them, topped them with their 2nd wafer and loaded the 2 remaining pans on top.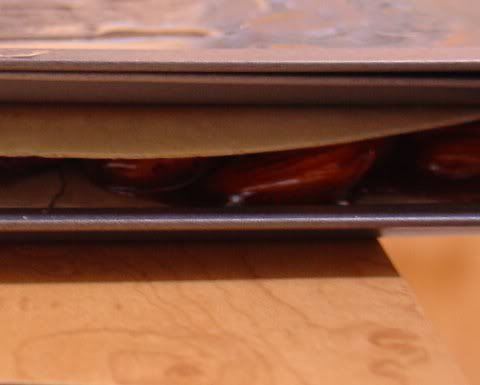 Looking at the pan of cooked filling, I knew I had to come up with yet another plan, since I was out of sheet pans. That is when I buttered the top pan, layered on the nuts and spread them out. It was going to just be left as is to become almond brittle, but since there were more wafers, I decided to try something. I layered some wafers on top and pressed them down onto the filling that was cooling, stuffed more nuts underneath each of them with a fork, and twisted them around on the sheet pan until I could lift them off. I put the first of them on a plate, topped it with a 2nd wafer and loaded the next one on top of that, then added its 2nd wafer, and continued that process until they were all completed and staying flat under their own weight. They went back in a stack onto the sheet pan and I added a dinner plate to keep them from curling up. The process added more weight to the sheet pans on the first batch and all's well that ends well. The second procedure was actually easier than the first.