After making

Lasagne

Verdi

Bolognese

, I was in

possession

of some spinach pasta that was wrapped in Saran and left in the refrigerator for a few days, along with about a cup of

Bolognese

sauce. It seemed like a good idea to use these immediately, so I worked out a plan.
Ingredients:
Leftover spinach pasta
Leftover

Bolognese

sauce
1 can diced tomatoes
Freshly grated Romano cheese
Directions: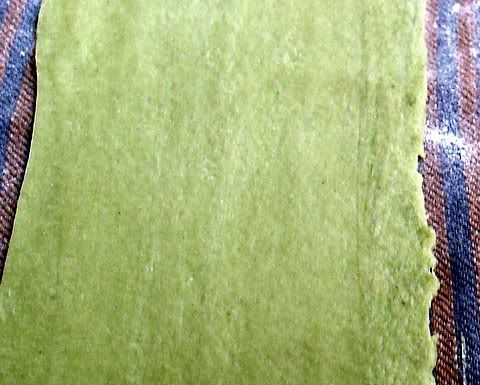 Take the pasta and let it come to room temperature, roll out to about 1/8" thickness and cut into fettuccine width. I was finally able to use the wooden pasta cutter I had purchased in Italy, so this project was quite fun. Without this tool I would have brushed a generous amount of flour on both sides of the pasta and rolled both ends towards the middle, then sliced it with a knife, placed the knife or a chopstick under the middle and unfurled the pasta.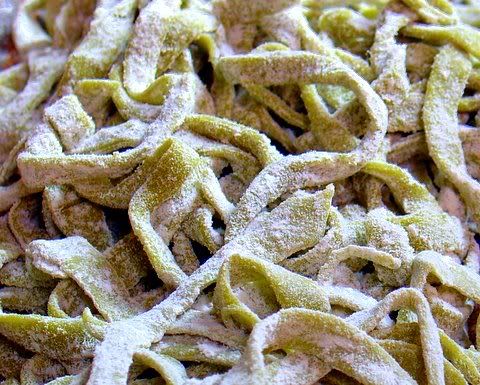 Since I did have the tool, I only had to place the cut pasta in some flour to coat it, so it wouldn't stick to itself. Since the sauce wasn't enough to cover the pasta, I minced the canned tomatoes and added them to the Bolognese sauce. They were heated together in a small sauce pan over a low flame until they had simmered enough to heat thoroughly.

Shaking off the loose flour, I placed the pasta into boiling water and waited for it all to float to the top. Afterwards I tested it and when it was cooked to my liking, I drained off the water. This pasta is really good "al dente", which gives it a chewiness that was really appealing.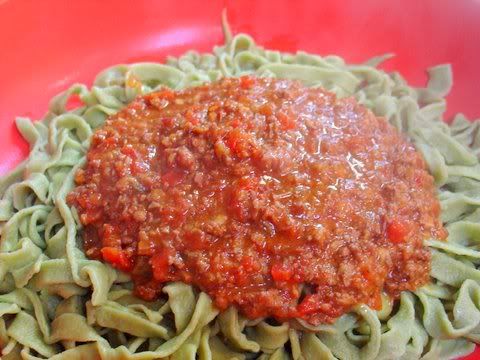 The pasta looked so good, I could have eaten it with just a bit of butter and cheese, but I already had prepared the Bolognese, so on it went. You can see by the color that the color of the Bolognese changed dramatically with the addition of the tomatoes. I may have to adjust my Bolognese recipe to include chopped tomatoes, because this sauce has great eye appeal.