After making meatballs one afternoon I decided to hold some of the meat mixture for another purpose. Then I had to come up with the purpose, so looking to see what else needed to be used soon, lasagne popped into my head. I really love lasagne but don't get much of it, so I had high expectations with this project. Next time I will eliminate the goat cheese and use another milder cow milk cheese. Switching out the chard for spinach or zucchini might work well too. This was not my best effort, but decent enough to add here to inspire a better one next time.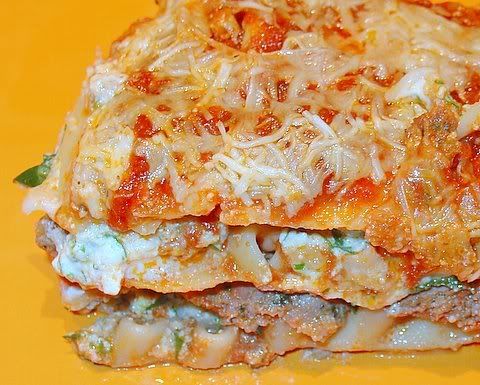 Ingredients:
1 box lasagne sheets
1 carton ricotta cheese
1 eggs
1/3C chopped flat leaf parsley
2C freshly grated Romano cheese
1C prepared spaghetti sauce
1C ground beef mixed with Romano, garlic, and breadcrumbs
1 bunch Swiss chard, small stemmed or leaves w/o stems
Directions: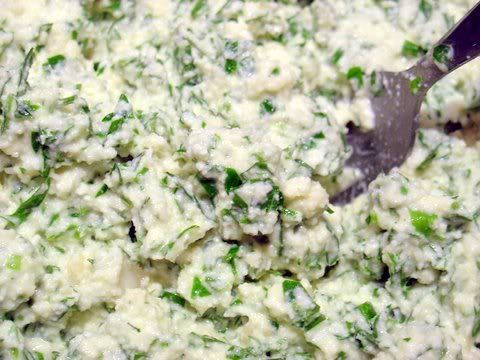 First step is to preheat the oven to 350 degrees and mix the ingredients for the ricotta filling; eggs, ricotta, chopped parsley, and 1/2 of the Romano cheese. Mix them thoroughly and set aside while you boil water for the lasagne. Cook the strips to an al dente and drain.
In an ovenproof pan, spread some of the tomato sauce on the bottom and layer it with one layer of the lasagne sheets. Next, place a thin layer of the ricotta/parsley mixture over the sheets of pasta. Then add another layer of the pasta onto the parsley ricotta filling.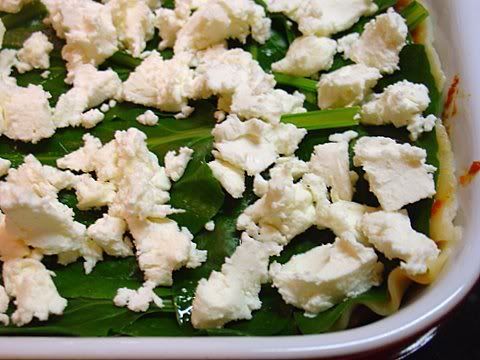 After layering more sauce over the pasta, add a layer of the meat. I merely made these into a ball shape than flattened them for a thin layer of meat. Cover with your next layer of pasta and more sauce, then add the blanched chard and put the goat cheese on top of them.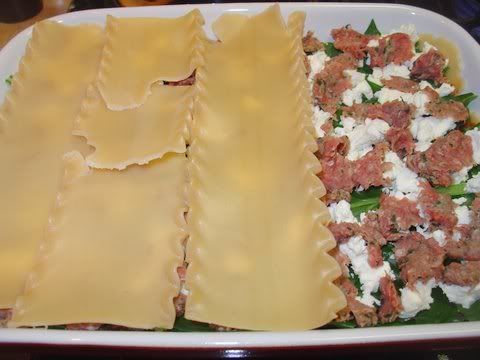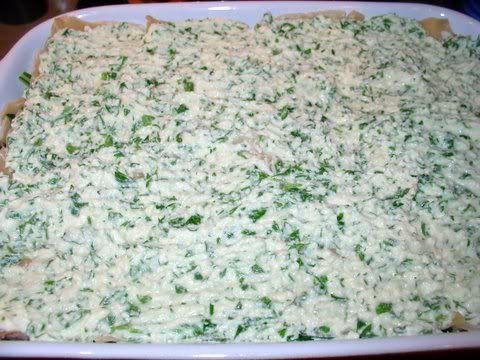 Continue layering with what ever ingredients you have left over, in this case I added more meat. More lasagne sheets go over the top and more ricotta on top of those. The last layer should be pasta and sauce. The more sauce the more cooked the pasta will be and since the pasta sheets were al dente
they could use a good portion of tomato sauce.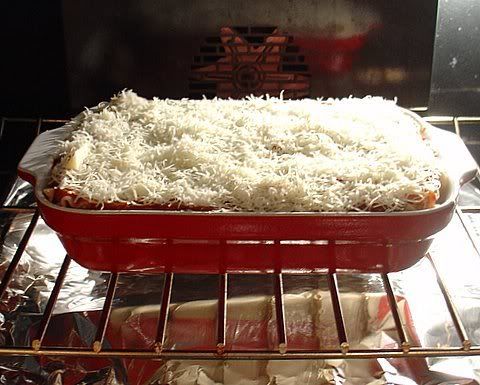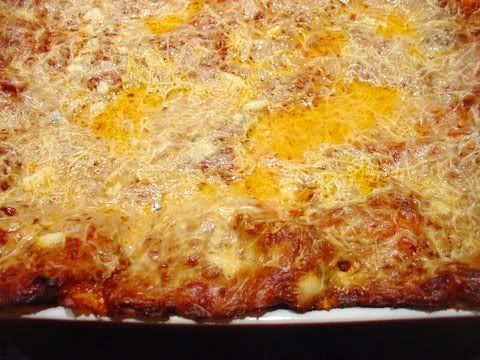 Finally add the remaining Romano cheese. This should in essence go on all layers of the tomato sauce, but these photos indicate that I failed to do that during the layering of this lasagne. Bake the lasagne until it is hot throughout, 30-40 minutes. You may wish to place a foil tent on top so the cheese does not burn and pull it off during the last 5 minutes.