Since mushrooms are one of my favorite ingredients, it was highly probable that I would come up with a new soup idea based on what was on hand. On hand specifically was a pound of crimini mushrooms that needed to be used immediately. The other available ingredients are what made this soup work.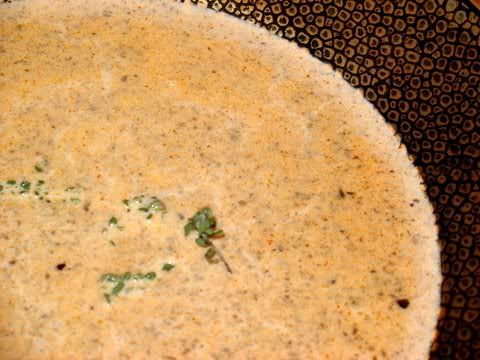 Ingredients:
2C minced brown Crimini mushrooms
1/2 small red onion
1/2 cube butter
2T olive oil
2T tomato paste
2t dried thyme
1 bay leaf
2/3C dry white wine
1/3 heavy cream
1T flour
1 can chicken broth
Directions:
For the mushrooms, a quick whirl in a food processor will do, but you could mince them. Finely dice the onion and set aside. Since I had no idea what I was going to make, I started out with a 12" non stick frying pan, but I would suggest a 4 -6 quart pot for this recipe.
Heat the butter and half of the olive oil in the pan and saute the onions over medium heat until they are tender. Add the mushrooms and stir together until the mushrooms start releasing some of their liquid.
To aid in this process add a little salt and also add pepper if you wish. I usually leave pepper until the end of cooking if I use it at all. Cook down the mushrooms over a medium hot flame until they look a little darker.
Open a small spot in the pan and add the remaining tablespoon of olive oil. Saute the tomato paste in it, while you break it up for about 2 minutes. Now incorporate it into the mushroom onion mixture.
Lower the heat to medium and add the wine (I used Chardonay), then stir it into the mushrooms and start simmering. Ultimately, your goal is that the wine to be reduced by at least half.
As you start the simmering process, after adding the wine, add the dried thyme and the bay leaf. You should notice a deep, rich color developing in the soup ingredients.
Since the objective is to make soup, adding chicken stock or broth, or even beef broth is necessary. For a Vegetarian version I suggest adding water, and a vegetarian bouillon cube.
Star brand makes a very good porcini version.
Wisk the flour into the cream until it's smooth or you may end up with lumps in your soup. If you want to skip the flour, you can cook down the soup until it reaches the desired thickness and simply add the cream.
I usually wisk in the flour/cream thickener, as a good measure against lumps, but stirring would probably suffice. Since you already have a dirty spoon and a dirty wisk, the choice is yours. Fish out the bay leaf before plating.
Garnish with a fresh sprig of thyme or even rosemary, so your finished version will look better than mine. It was too cold to run outside into the garden, so I used the dried thyme I already had in the kitchen.