When the Martini drinker in your household decides to switch to something else, what would you do with leftover Vermouth? I decided to just pour some into this seafood pasta that I was preparing. It was simple and needed a bit of a lift, so it seemed okay to sub the vermouth for a dry white wine, after all that's what it is with a little fortification to 18% proof and aromatization from herbs and spices.
Ingredients:
1 lb. capellini
16 large raw shrimp
3T sweet butter
2T olive oil
2 cloves garlic
1t minced fresh thyme
1t Aleppo pepper (red pepper)
1/2C vermouth
Directions:
Place water in a 6-8 quart stock pot over a high flame and start boiling water for the pasta. Then take a pan big enough to hold the cooked pasta and shrimp, add the oil to it over a medium heat and start the sauce.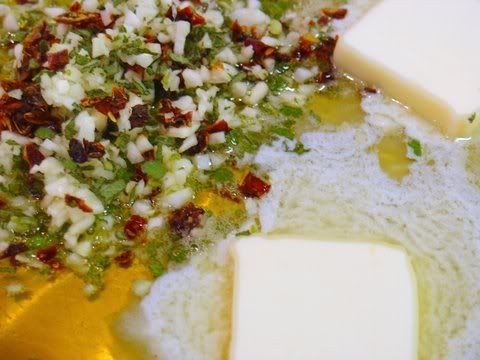 Add the minced thyme, red pepper flakes and butter to the heated oil and saute them until the garlic starts permeating the air and the butter is completely melted in the pan.
Continue to saute and allow the garlic to cook longer, but watch it carefully so it doesn't brown. You may wish to lower the heat until the butter starts foaming. If the pasta water is not boiling yet, take this off the heat until it does.
Next, add the shrimp, raise the heat to medium high and saute them until they turn pink one one side. This doesn't take very long, so add the pasta to the boiling water and start cooking it. Capellini cooks fast so keep an eye on it.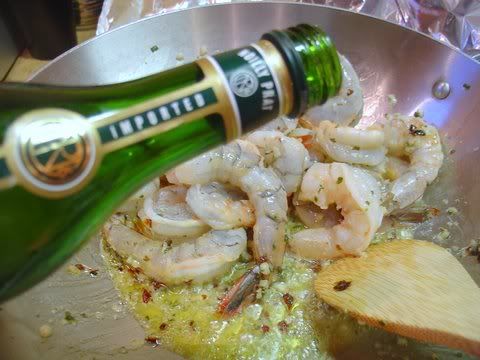 Add the vermouth halfway through cooking the shrimp and continue cooking. When the pasta is al dente, drain it and add it to the cooked shrimp and vermouth butter sauce.