After one more recipe using Burrata and prosciutto, I'm hanging up my turnover hat for awhile. I love the ease of making them. They make tasty little starters, or a big appetizer, but my well is running dry for new ideas at the moment, and I would in fact, like to repeat a few before making something new. This recipe is for the first turnover I ever made; it was an appetizer for vegetarian friends.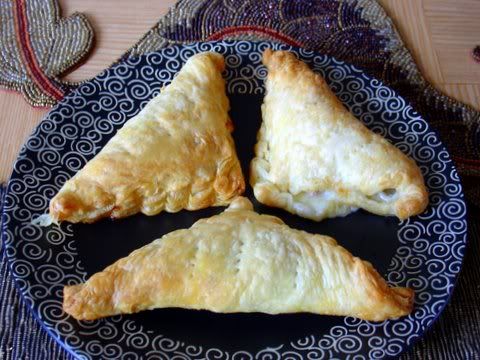 Ingredients:
1T extra virgin olive oil
1package puff pastry squares
Directions:
First of all, thaw the puff pastry, then preheat the oven to 375 degrees.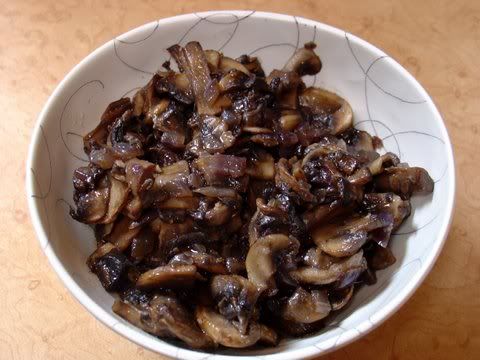 After the mushrooms have been sliced, give them a coarse chop. In a pan over medium heat, add the olive oil and saute the minced shallots until they are translucent. Crush the thyme and add it to the pan. Stir it with the shallots and saute until you smell the fragrance of the thyme. Now's the time to add the chopped mushrooms to the pan and saute them until they start releasing their liquid. Adding salt at this time will help in that process. Feel free to add a bit more olive oil if they start sticking to the pan before the liquid is released. Remove the mushrooms and set aside.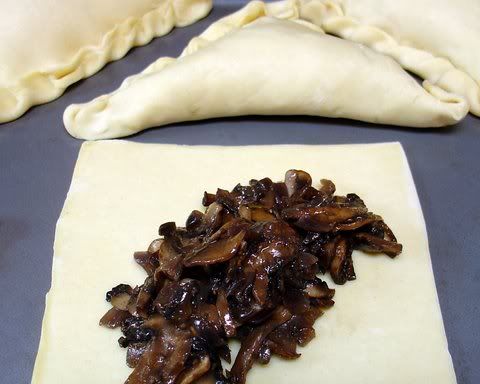 Place the puff pastry squares on a large, nonstick baking sheet. Add as much filling as you can toward the center of each pastry square, but allow at least a one inch border all around so you can seal the turnover properly.
Fold two opposite corners of the pastry together, stretching it slightly over the filling and pinch all the edges to seal the turnover. Fold over all the edges by half an inch and crimp the edges. Use fork tines to press the edges together if you can't get the hang of crimping. Dock the top for venting steam (pierce with a fork in quick jabs).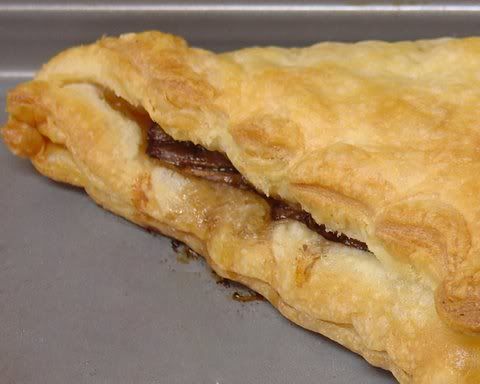 Bake the turnovers until they are puffed and turning a golden brown. sometimes I lower the oven to 350 degrees after the first 5 minutes, to avoid burning the dough. Again, you can see what happens when the edges are not fully sealed. This can be avoided if you make certain the all the edges are dry and the margins are a full inch or more wide.