As the owner of at least 6 books devoted entirely to the subject of risotto, I know there are many recipes, but this was developed when only pecorino cheese was available.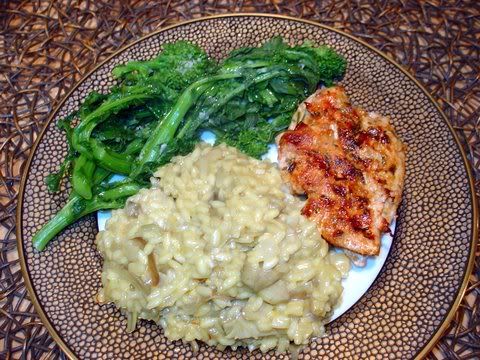 Ingredients:
2 cups arborio rice
8 cups chicken stock
1 cup dry white wine
1 medium yellow onion
12 small fresh artichokes
1 large pinch of saffron threads
3T extra virgin olive oil
1 cup freshly grated Romano cheese
1 half lemon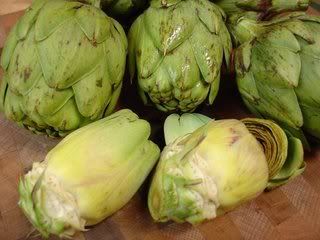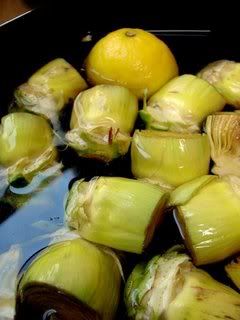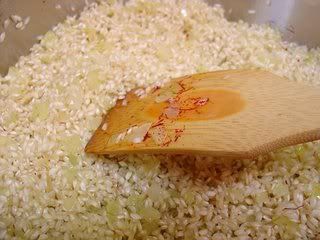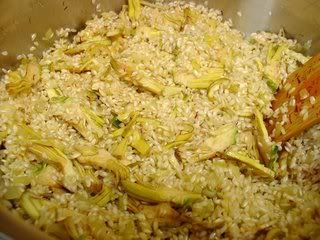 Cooking Directions:
Peel the artichoke tough outer leaves until the flesh looks yellow green in color and the resistance is weaker than when you started peeling. Cut off the top 3rd and cut lengthwise, soak in acidulated water.
Heat olive oil in a 6 quart nonreactive saute pan over a medium-high flame.
Add finely chopped onion and when the onion is translucent, add the rice, saute, add the saffron, stir, then when the rice looks opaque lower the heat to medium, add thinly sliced artichoke hearts, stir, then add the wine.
After the wine has cooked down, start ladling in the chicken broth one cup at a time until it is completely used or until the risotto is cooked al dente.
Take off heat, add the Pecorino Romano, stir until melted, plate and serve after letting it rest for 5 minutes.