This recipe was made from necessity since some family members do not like eggplant. I've basically taken my grandmother's Eggplant Parmigiana recipe and subbed zucchini. If there is a need for a vegetarian entree, this recipe can be made with either a marinara sauce or the porcini sauce posted here previously.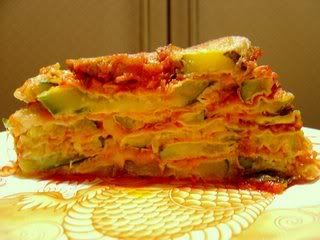 Ingredients: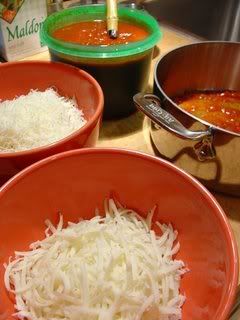 6-8 zucchini (1.5" to 2" wide) sliced 1/4" lengthwise
3 jumbo eggs
1 cup flour
olive oil (enough to cover a skillet by half an inch)
1 clove of garlic (smashed with knife blade)
1-1.5 cups of porcini tomato sauce
1 cup finely grated pecorino cheese
1 cup coursely grated truffle cheese
Alternate Ingredients: 2 medium eggplants in place of zucchini, meat sauce may replace porcini sauce, mozzerella as a substitute for the truffle cheese or just pecorino if you don't need it to hold together as a torte.
Side Note: This presentation as a torte requires a cheese with some sticking properties like a mozzerella (not fresh and packed in liquid, but your standard pizza cheese), fontina, or caciocavallo. I believe the cheese with truffle is called Boschetto. The cheese used to plaster the layers together is kept an inch away from the sides, so as not to stick to the pan, but the pecorino can and should be placed up to the edges. As a casserole, only the pecorino is needed.
Set up the flour, beaten eggs and frying pan: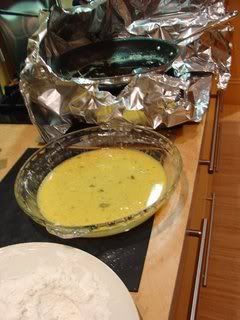 Directions:
After slicing the zucchini, put oil into the frying pan, add the smashed garlic and bring it to a medium high heat. Your object is to quickly brown the vegetable. It will be cooked during the baking process.
Flour both sides, dip into the beaten eggs, place in the frying pan and turn as soon as the bottom browns. When both sides are a golden brown, remove from pan and drain on paper towels. I decided to try round slices on the first layering to make the top visually appealing, but this is unnecessary.
Place a thin layer of sauce on the bottom of the casserole pan, then start adding the fried vegetable in a single layer. Add a thin layer of sauce over the zucchini and sprinkle it with pecorino cheese (1" from the sides of the pan, add the other cheese). Keep layering until the casserole is filled to the top, ending with a layer of pecorino. Bake in a 350 degree oven for one hour.
When the baking is completed, insert a knife to loosen the sides of the torte from the pan, invert a plate on the casserole and flip over. If you're successful, you'll have a completed torte that should look something like this: